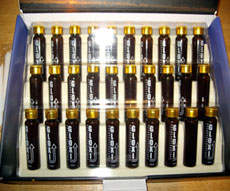 One of the ways I find out about new products, ideas, or methods on how to increase height and grow taller is by just checking the software I use to look at the traffic of the website. Most people who have tried at any time to earn money on the internet is probably familiar with Google Analytics and most people probably use that because it is free. I started using it but I switched in 6 months to another provider, Clicky. I prefer clicky because it does not do daily data but real time data.
Anyway, the way I found out about the fact that some people have tried using the sheep placenta stem cell product MFIII made from switzerland was from looking at the people and traffic coming in and someone somehow found this website by searching for "MFIII height increase", probably on google. Today I was checking the data and this new product came up "Gloxi Height Enhancer". So I decided to go on google and find out more about this gloxi height enhancer.
This post is going to be an analysis, and review of the product being sold as a height increase cream.
These are the websites I checked and got my information from.
Resource 1 (Wellsphere), Resource 2 (My EX Shop Mall), Resource 3 (Giant Scientific discussion), Resource 4 (istorya), Resource 5 (Missosology)
---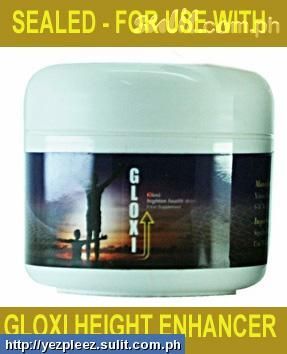 First of all, it seems that most of the people who talk about this product are really just asking about the feasibility of the product. They wanted to know whether it really works. Other people who talk about the product are interested in knowing how they can buy this type of supplement/cosmetic cream from where they live. Some people who post on the discussions about this product says that it really does work but one must take it for almost 1 year. In general people agree that the product is expensive.
The product which is a type of cream you put on your legs is made in the Philippines. These are the directions on how you are supposed to use it.
USAGE: Apply gloxi massage cream to legs and feet after drinking gloxi health dink.
Tips: To maximize the effect of Gloxi Health drink, for women do some stretching every morning and at night before going to bed. And for men, playing basketball will be the best exercise for you. Drink milk and avoid fatty and oily foods, smoking and drinking alcoholic beverages.
The claim by the people who sell it is that after you use 7-10 packets, you will start to grow.
On some sites, the product is $22. Some sites that talk about the product is probably in Tagolag which I can't read. That would be the istorya (Resource 4).
I did find one Youtube video which appears to promote the oral drink type of the Gloxi product. Click HERE if you want to find the rather intertaining Video. I chose not to embed the video to the post because I am still reviewing the product. On the profile which uploaded this video, there is a 2nd video which you can get to if you desired by clicking HERE. This seems to be just like the first video which is just advertising and promoting the Gloxi Height Enhancer drink and cream.
From that profile I found a link to a website www.growthdrink.com . If you go on that website, you can see that it is a sales page which sells 6 products, 3 of them that advertise that they can help you increase your height.
1. Gloxi Height Enhancer – On the webpage, this is what they claim  (NOTE: The cost to get 3 packets is $555.00 (90 vials), the cost to get 9 packets is $1665.00 (270 vials))
"A new innovation formula to help you  achieve your desired height in no time! This formula composed of natural extracts that work together for maximum absorption of nutrients for a better and healthier body. Gloxi is made up of natural ingredients combined together to perform multi functions for a faster and better growth result….It has CPP that prevents the formation of insoluble salts which increases the absorption of calcium and other nutrients that your body could get with this formula. It has GLUCOSAMINE which stimulate cartilage cells to produce two proteins that help our body joints to hold tissue together primarily used to treat osteoarthritis. That is why this health drink is suitable from ages 14 and above….Because of the natural extracts of this health drink, it doesn't have any side effects, just a satisfactory result that would give you a better and healthier lifestyle. Aim HIGH! add HEIGHT! Take Gloxi health drink that's right!!! Gloxi health drink works naturally in enhancing your growth hormones to help you increase your height while building strong bones and good skin. Stop dreaming, grab a gloxi health drink and start growing everyday until you achieved your  desired height!""
2. The Body Tractor – On the webpage, this is that they claim  (NOTE: The tractor will cost you $1,700 to get)
"Order – The Body Tractor Can Be Used To Add Height Even After Puberty. Effective For Use The Body Tractor With Any Height Growth Supplement Regimen. Click BUY NOW For Coupon Code To Appear"
3. Gloxi Gel – There is not much written on this page for the gel or cream you are supposed to put on the legs but 3 jars of the stuff will cost you $85.00
---
I stated in a past post that Giant Scientific is one of the more honest and informative resources on the internet for height increase seekers. Now if we go to the Giant Scientific Resource HERE again, the general response has been curiousity and extreme anger.
One guy is just curious abou the product. The link or webpage he shows where you can buy it at which is at http://orders.ilovemyhealth.com/ turns out to be the exact same webpage as www.growthdrink.com . Now that raises a few red flags right off the bat.
So one guy is just curious and wanted to try out the product and the other guy is super angry at him because he believes the original poster is a scammer, a spammer, and a fraud.
I personally think the discussion and final nail was added by a post made by Minigolf/Tyler on this issue (Post was on Nov 13, 2010)
---
Legit products(or products that actually try to be effective) start out by giving away info for free like easy height, height fx, adult height increase blog, quest for height, etc. If a company has enough advertising budget to start charging right away without relying on free publicity then it has enough money to prove it's results.
Like limbcenter.org tried to charge but it didn't have enough proof yet so they had to go on hiatus for a bit to get proof.
The bottom line: If they have money for advertising they have money for proof. If they don't have money for advertising then they have to give away the routine for free.
From the MISSOSOLOGY resource, the posters' answers are that it is a scam and cannot work.
Me: So I always do try to keep an open mind to all of the options that are advertised. I am willing to look at the supplements, the drinks, the creams, the devices, etc. This one is a little difficult to make a full conclusion because I personally have not seen this type of product before. There is a total of 3 products/devices I have looked at and I can only make the best judgement I can at this time. My judgement on the product: It's a scam, and does not work. 
It is true there are some comments on Youtube and other places that are testomonials that the product works. There seems to be a height increase after using the material and those testomonials can be from honest people. The problem is that it seems like most of the people who are interested in buying the vials and cream are really young, like in the teens years, 14-18 years old. The are probably honest, genuine, and desperatly looking for a solution becasue they feel short and small compared to the other kids or classmates around them. They want to believe in something that works and this product just might answer their deep desire to grow taller. I am sure some of the people interested will buy the product, and use it and they grow taller. But it won't be from the actual cream. If we remember what the direction were for the product, we find out that we are supposed to do morning and evening stretches, play basketball, drink milk, and avoid fatty and oil foods or alcohol. Okay, now we see why the product seems to really work. The people who buy it are still young and probably had their growth plates open so they grew. The directions they got and were told to follow was basic general directions on how to live a healthy lifestyle and supposedly increases height by themselves (ie. drink milk, play basketball)
So, the Gloxi Height Enhancer is most likely a scam which when put under the microscope of a controlled scientific experiment would almost definitely proven to not do what it was advertised. The height increases the people who bought the product got were because of other things, not the product. As for the traction machine, that is very expensive and I am not sure it would work either. The machine could even end up hurting a person if they tried to do it do hard. 
In conclusion, the Gloxi drink and the Gloxi cream will not work. If one focused on the other directions on the websites which promote a healthy lifestyle, the young teens who are probably the majority of people who buy the product will be able to grow a lot more than through using the scam product.