Note: I am not a big joke or prank guy so I don't plan to ever joke or prank you guys with a silly April Fools joke like claiming that I grew 1-2 inches in the first month. That just doesn't happen!
I had said in a post around the beginning of the last month in March entitled "It Is Official, I'm Going To Try To Grow Taller Myself, March 3rd" that I would try to take up exercising again to both try to gain any "hidden height" back which I might have lost in living such a sedentary life since I have been out of the country for the last 9 months.
I had made a vow with my gf that we would try to put ourselves through some type of exercise program to lose weight. We both noticed that we have been putting on the pounds for the last few months with our busy lives and hectic schedules. Or it could be that we are just too lazy to get fit.
So she is now walking much more to work these days (she takes the bus) and I have decided to try  getting back to swimming and stretching like I did years ago when I was trying to gain height. I guess I plan to try to loss weight, get healthy, and possibly also grow taller from my constant exercising and stretching.
She doesn't realize that In addition to trying to lose weight and get fit, I am also slightly altering my exercise routine to focus more on stretching and decompressing my vertebrate for height increase reasons. She is around 5′ 2″ and has also expressed that she would love to be taller. At this point I haven't told her that I write or operate this website yet. I am not sure how she would respond when she realizes that I run one of the largest websites on the internet which focus on this subject. Maybe she'll think I am crazy.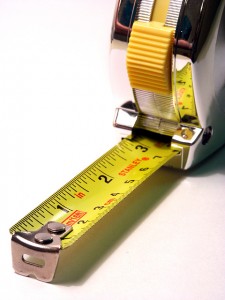 So what is the update after almost 1 month?
Absolutely very little. I have been reducing my food intake, eating one or two small portions of food each day and have been going swimming every other day. I found my old tape measure and looked at whether I had shrunk or grown. It seems that at last measurement my height is about the same as the last time I intentionally really made an effort in measuring myself, which was over 2 years ago. So at least I haven't shrunk, which is something I do worry about. Whew!
My schedule in flying so much this recent month and running errands and driving to so many places forced me to not have enough time to really do the exercises I was hoping for. By the end of next month however I should have a lot more time and consistency in my exercises and stretching though.
Of course these days I have hair now and I would prefer to measure with my hair on instead of being shaved like before. The hair thing will lead to quite a bit of measurement error. I would like to keep my hair but still get a very accurate reading. Do you guys think I should get a stadiometer for my room?