Update #15 – Breaking Up The Website To Different Research Areas – June 1st, 2014
There has been some serious news that I found only this month which was recently revealed. In the next few months I will be releasing at least around half a dozen new developments going on in the world today. After those news are revealed, I am going to start to break apart the website towards different areas of research. We need to shift the focus of this website to other things since this type of research is inherently limited.
That is why I want to go into research on 6 areas….
Cancer – specifically the biochemistry mechanisms that causes the 200+ types of cancers to develop. Cancer is just uncontrolled and unrestricted proliferation of a certain type of cell.
Transdifferentiation – this is the holy grail of stem cell research, and I think it is also linked helping researchers figure out how the Hydra can stay in a state of biological immortality.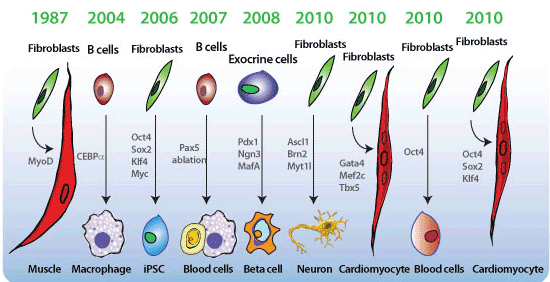 Stem-Cell-Research – Based on what I just revealed, I want to stay and focus on learning more about stem cells, and the various ways the researchers are getting fibroblasts to turn into other types so easily.
New Regenerative Tissue Engineering Techniques and Ideas – This is huge, and is going to be much, much bigger in the coming decades.
Back Pain – One of the leading causes for americans to go to seek medical treatment is back pain. The research we have already done reveals that there are many ideas already being patented and licensed out by orthopedic specialists to try out.
Knee Pain – After finding the KneeGuru.com website, it would be wise to also focus on learning more about treatments on how to treat and manage knee pain and knee related injuries and medical ailments. I just really want to focus on understand how the various types of joint pain (Shoulder, Hip, Wrist, Ankle) is developed. There has to be much better solutions and treatments than just cold compresses, taking some ibuprofen, and staying off of one's feet.
I am not planning on ever moving completely away from research on height increase, but that does not mean I am going to restrict my research only on height increase. It is not possible to create disruptive innovation and futuristic technology without learning about other areas of scientific research going as well. What I learn from studying stem cells, cancer, surgical methods, and back pain will only help strengthen my lack of knowledge further so that new ideas and proposed methods and solutions can be created.
On the issue of Patents:
I definitely want to see where is the patent for the implantable growth plate by the Russian team. I will be planning on scouring through the russian websites and search engines to find or track down the patent that is claimed to exist but is being held back due to legal issue. If the patent has NOT been filed within 2 years time or has not reached approval, then I will file THE EXACT SAME patent before Teplyashin's team. It may cost me $50,000 but over the long term, it will have some very good financial payoff decades from now. After the patent is approved where I give the exact full details on how everything is done, I will be willing to put a few years of my life into finding real investors and show them a proof of concept. I am guessing it would take around $50 Mil to create a 2 year runway to get the entire thing to become self-sustaining.
Harald from the Biomedical Growth Research Initiative and the other representatives may have been trying for the last 10 years to get rich investors but I have some business experiences and very strong connections with very large biomedical companies like Johnson & Johnson, Biogen, GlaxoSmithKline, and Eli Lilly. They only half-assed the effort to find financial support, which got them nowhere except a bunch of pretentiousness and a lot of talking with no action backed up and amateur level legal paper work.  They did no real research or reading themselves, but tried to be some type of quasi-middle man, HR-like connector who provided nothing to the overall progress of our goals and endeavor.