Me: This invention is a low invasive surgical procedure which flat implants are systematically inserted into the subject's vertebral bone through a stacking process which decompresses possible vertebral fractures that develop from bone degeneration. It is a type of vertebroplasty. There is an initial implant of a top and bottom plate, and then the real implant is placed between them. This implant is expandable but not inflatable. It expands only in the spinal axis direction thus pushing apart the top and bottom plates and supporting them. This causes the vertebral to expand and widen, thus increasing vertebral height. Once you get the implant next to the cancellous bone, you inject a bone filler ,which is body cement into the implant. 
The way the implants are stacked upon each other is similar to the game of Jenga with the blocks but there is a locking mechanism which holds the pieces in place 
I must say that this approach has minimal invasiveness and the invention will lead to even more ideas in this small area of surgery. 
Patent Link found HERE.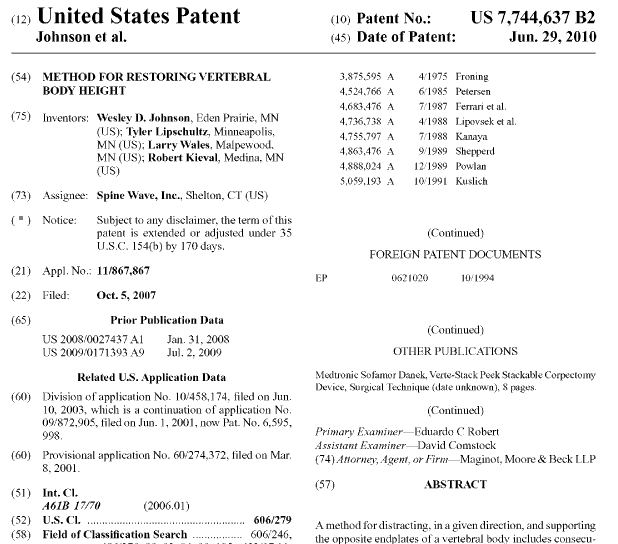 A method for distracting, in a given direction, and supporting the opposite endplates of a vertebral body includes consecutively inserting a plurality of wafers between the endplates to create a column of wafers. The column of wafers is oriented between the endplates so as to expand in the given direction as the wafers are consecutively added to the column to restore the vertebral body height.

Inventors: Wesley D. Johnson, Tyler Lipschultz, Larry Wales, Robert Kieval
Original Assignee: Spine Wave, Inc.
Primary Examiner: Eduardo C Robert
Secondary Examiner: David Comstock
Attorney: Maginot, Moore & Beck LLP
Current U.S. Classification: 606/279
Patent number: 7744637
Filing date: Oct 5, 2007
Issue date: Jun 29, 2010
Application number: 11/867,867