Achondroplasia Treatment and Increase Height Using Meclozine aka Meclizine – Great News For Parents!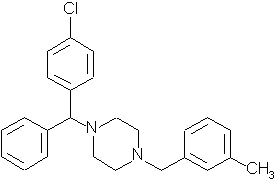 We have already talked about the chemical BMN-111 by Biomarin which is supposed to be able to treat young children with open growth plate cartilage suffering from Achondroplasia. Achondroplasia is the most common type of skeletal disorder which causes people to end up with abnormally short stature, often below the dwarf/small people height of 4′ 10″.
Now there seems to be another chemical treatment that has been proven to have benefits to help treat achondroplasia by inhibiting the FGFR3 gene abnormality. This compound is called Meclozine or Meclizine.
Refer to the study…
"Meclozine Facilitates Proliferation and Differentiation of Chondrocytes by Attenuating Abnormally Activated FGFR3 Signaling in Achondroplasia"
From the abstract…
"….We used the C-natriuretic peptide (CNP) as a potent inhibitor of the FGFR3 signaling throughout our experiments, and found that meclozine was as efficient as CNP in attenuating the abnormal FGFR3 signaling. We propose that meclozine is a potential therapeutic agent for treating ACH and other FGFR3-related skeletal dysplasias"
We've seen already at least 1 Patent (by Nakao) filed which was used to treat idiopathic short stature using a type of C-natruretic peptide (CNP). This compound seems to work just as well for skeletal dysplasia as any of the CNP derivative types.
For more information on Meclozine/Meclizine, refer to its Wikipedia article here.
From the article, all these brand name pills have as the active ingredient meclizine inside…
Bonine
Bonamine
Antivert
Postafen
Sea Legs
Dramamine (Less Drowsy Formulation)
Emesafene
On its Wikipedia page, it says that this compound is supposed to be used for motion sickness, but has dementia enhancing effects on older people.
The conclusion made by that researchers are the following…
"We found that meclozine dihydrochloride, a commonly used anti-emetic drug for its anti-histamine activity, efficiently suppresses FGFR3 signaling in three different chondrocytic cell lines and embryonic bone organ culture. We also identified that meclozine suppresses FGF2-mediated phosphorylation of ERK"
Warning: We are not doctors or medical professionals. We would like to tell any parents of kids suffering from Achondroplasia/Short Stature to NOT just go down to the local drugstore and buying bucket-loads of Dramamine, the Less Drowsy Formulation, to try to treat/inhibit/suppress the FGFR3 abnormality. Please seek professional advice first before going off and try to make your children taller.