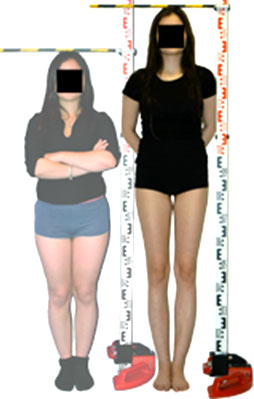 I encountered through the Make Me Taller discussion board about this ABC Special done that mainly talked about the increased use of cosmetic surgery among men in the US however focused mainly on the part where they talked about how some men are deliberately asking doctors to break their legs to add the inches. The ABC 20/20 Special Aired originally sometime during February of this year (2012).
The article written is about a guy named Apotheosis (aged 37) from the Make Me Taller boards who went from 5′ 6″ to 6′ 0″ (OR maybe 6′ 2″!). An amazing 6 (or 8) inch increase.
However, in the video there are two men who are interviewed about their experiences with the limb lengthening surgery. My previous post was about the first guy, Akash who added 2 and a half inches to his final height to almost 5′ 2″. The other guy in the video I am not sure whether he is Apotheosis or not because what he has stated and what ABC claims are 2 inches off. Dr. Dror Paley is mentioned for his practices and his quick choice to implement the newest technologies in the science of limb lengthening, which I personally have a lot of respect for.
In the video, the guy stated that he had the initial surgery that went from 5′ 6″ to 5′ 9″, a 3 inch increase. Then the video reveals that the guy in the video went back in for a 2nd surgery for more height, and was going to be around 6′ 2″ by the end. That is an 8 inch increase, not a 6 inch increase!
So Either ABC reported it wrong, the guy was lying about how much more height he as going to add, or there was something lost in the communication, assuming the guy in the video is Apotheosis.
I tried recording the video and uploading the file but the file was too big for the server to take so you will have to go to the ABC website to view it. The beginning of the video mainly talks about altering the face but the part where they talk about altering height begins around the 3:04 mark up to the end at 6:46. You can find the ABC 20/20 Special Video by clicking HERE.
I originally found the discussion about the issue from this thread HERE on MakeMeTaller.org