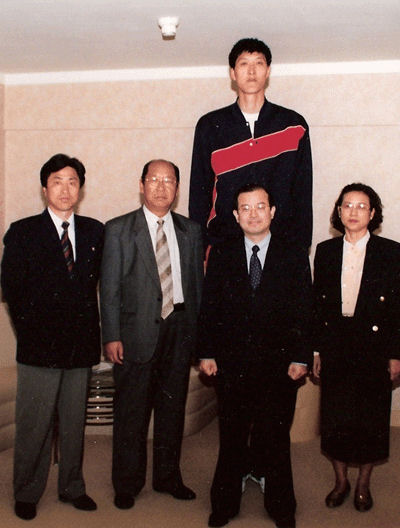 Now we come to a very interesting question. It seems like all of the giants we have ever known became that way because of some form of medical condition which gave them their great size. The tallest man in recoded history Robert Wadlow had a hypertropic (oversized) pituitary gland which never even allowed him to reach puberty even at the age of 22. The current tallest man Sultan Kosen got that way because of a tumor dislodged close to and pushing against his pituitary gland. It does seem like every single person over a certain height, around the 8 feet mark is from a disorder.
However, there are some giants among us who appear to be completely normal in their bodily function and can claim that their great size is hereditary and comes from genetics. The most famous person known is probably the ex-NBA star Yao Ming who stands at 7′ 6″. His height comes from his parents who stand 6′ 7″ and 6′ 3″ respectively. There are stories that showed that his grandfather was supposed to be the tallest man in all of Shanghai during his era in China. It is too bad Yao Ming was born during the chinese era of the 1- child policy. We might have seen some more Yao Mings like his younger sister or brother who could have been even bigger than him.
So I got curious and asked the obvious question "Who is the tallest natural giant today?" and "Who is the tallest natural giant in history?" What I mean is that the person's height should not be from a pituitary condition or say Marfans Syndrome.
There appear to be 3 main contenders of the title of the current world's tallest natural giant
1. Paul Sturgess – 7′ 7″ – 7′ 8″ from the UK – Father is of great stature
2. Ri- Myong-hun – 7′ 8.5″ – 7′ 9″ – From North Korea – (What is really puzzling to me is how such a tall non pituitary person can arrise from a country which is very well known for its decades of malnutrition thus its short statured citizens. ??)
3. Neil Fingleton – 7′ 7.66″ from the UK – Entire family with his siblings all exhibit great height
There could totally possible even taller natural giants in the world like say from the Netherlands or Serbia or Croatia who don't wish to come public and that is OK.
As for the tallest natural giant in history, Guinness World Records and people from the UK claim that right goes to a person named Angus MacAskill who was reported to stand 7′ 9″. It was claimed that he was the tallest, biggest, and strongest person who has ever lived. There are many stories about him and his feats of strength. I didn't want to get into the details of his life but to note that many people from the UK have told tales of his great height and strength so it is possible his story and legend is slightly exagerated. To read more about him you can click on the resources HERE, HERE, HERE, or HERE.
I have looked around and can't seem to be able to find an accurate photo or information about him. From some sources, it is believed that Angus MacAskill was not as tall as reported by other people. It is well known that people during the 19th century often exxagerated the height of really tall people to make them sound bigger and more powerful than they really were.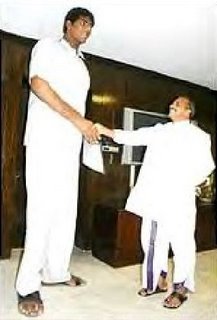 As for the documented giants who could have been just natural and genetic, there is the possibility that Vika Uppal who was reported to have stood at anywhere from 8′ 0″- 8′ 9″ could have been a natural giant. Some people claim that his facial bones structure and proportional body showed that he was not suffering from a pituitary condition. However , it was reported that Uppal died from a brain tumor operation so maybe he was not a true natural giant.
Overall, it is very difficult for me to answer the question of who was the tallest natural giant in human history. We have only had documented medical records for about 300 years and there have been plenty of legends in our human history where people talk about giants who lived in other tribes and civilization. How am I not to assume or theorize that there might have been a tribe somewhere in our human species past where through selective genetic selection where the tallest members mated, allowed for and created a group of people who were 9 foot, or even 10 foot in height? They might have died out when they faced their neighbors in say combat or war and was never heard of. Of course, I would not know that and no one would know such a fact in this day and age where it seems like everyone's data and information is collected and stored somewhere for other people to look at.