This will be another one of those fun posts which I have always wanted to write about but never could find a platform or place to write about such a topic. Today's post is on the real height of ex-NBA star Yao Ming. Since I have been a basketball fan, I have followed the career of this Chinese Giant to see whether a person of his size would do well in professional sports. I know that he played for the Houston Rockets for his entire NBA career after being the #1 pick from the 2002 NBA Draft. When he first arrived in the US and NBA, many people did not know what to expect from this man from a foreign nation.
Now a decade later with Yao Ming retiring, the NBA has found a huge new market to go into for its newer generation of stars, China. Every month I am hearing about how basketball stars like Lebron James, Dwyane Wade, and Kobe Byrant have been coming to China to host intercultural exchange using the sport of basketball. China is getting richer and some of the best business opportunities can be found there. The people in China are also crazy about the sport from watching super human giants jump into the air and nearly fly. I remember in the 90s with the reign of Michael Jordan that the advent of the internet had not come along yet and his popularity was just starting to reach the other nations. However, the basketball players of today have found the ability to reach kids from all the countries in the world that his airness probably would not have thoughht was even possible. I am almost positive that in another 10 years, the sport of basketball will try to sink its teeth into India, Africa, Indonesia, and many other nations around the world with a large population base.
However let's get back to seeing how tall Yao Ming really is. Some sources say he is 7'5″ but other sources say he is 7′ 6″. In SI units that means he ranges from 2.26-2.285 meters in height, at about a 2.50 cm difference. When it comes to true human giants like Yao, there heights are a real mystery for most people. It is near impossible for a person who is even 1 feet shorter than them to guess their height correctly to within 2 inches. Since we are talking about a 1 inch difference, there is no way that most other people can judge his height accurately. A person of his height can vary very quickly in weight so I will just choose the value that is found from the official NBA website which is at 310 lb (or 140.6 kg).
Other useful information about Yao from imdb.com…
His father, Yao Zhiyuan, is 6′ 7″; his mother, Fengdi Fang, is 6′ 3″ and was captain of the Chinese national women's basketball team.
According to the Houston Rockets strength and conditioning coach, Anthony Falsone, he is still growing. Falsone says Yao was 7′ 5″ tall without shoes on (7′ 6 1/2″ with shoes) in October of 2002, but that by September of 2004, he had grown to 7′ 5 3/4″ in height barefoot, and to 7′ 7 1/4″ in height with shoes on.
At the 2004 Summer Olympic Games in Athens, Greece, he was listed as having a 7′ 5″ wingspan, a 9′ 8″ standing reach, and a size 18 shoe US.
His team media guide profile in China, stated that Yao had a 26 inch vertical leap, jumping from a standstill. However, Yao himself has said since then that two foot injuries he suffered since that time, lowered his vertical leap after this by about 4 to 6 inches.
First these are the sources that say Yao Ming is 7′ 5″ in height (2.2606 meters)
1. imdb.com  – he is actually listed at 7′ 5.5″ or 2.27 meters tall here. from the imdb link this quote is taken "According to the Houston Rockets strength and conditioning coach, Anthony Falsone, he is still growing. Falsone says Yao was 7′ 5″ tall without shoes on (7′ 6 1/2″ with shoes) in October of 2002, but that by September of 2004, he had grown to 7′ 5 3/4″ in height barefoot, and to 7′ 7 1/4″ in height with shoes on."
Me: The issue for me was that Yao came into the NBA league when he was 22, at least that was the age the Chinese government listed him as, and being able to still grow another 1 inch when one is at age 22-23 is really incredible. But then, this is a giant man with height in his genes and family so maybe he did grow.
2. Urban Dictionary – just for humor
3. CelebHeights.com – quote from site: Either gets listed at 7ft 5 or 6. Shawn Bradley, another giant of the court has been quoted as saying: "He's not as tall as me. If he's 7-6, I'm 7-8". Yao has stated "I'm 7-6" before.
4. NBA Chicago Bulls Predraft Measurements – listed at 7'5″ without shoes and 7′ 6.25″ with shoes with 7′ 4.75″ wingspan.
5. USBasket.com
Next, these are the sources that say Yao Ming is 7′ 6″ in height (2.286 meters)
1. Wikipedia
2. NBA.com
5. imdb.com – quote from the profile page: At a height of 7′ 6″, he is tied with Shawn Bradley, for the distinction of being the tallest player in the NBA.
7. TheTallestMan.com – Yao is compared to people like Hakeem Olajuwon, Michael Jordan, and Dikembe Mutombo and half of the people says he is 7′ 6″.
If you would like to do something fun, you can follow his twitter feeds HERE which is his real twitter profile.
Here is a picture I found of Yao from the 2008 Olympics Chinese Basketball Team (source HERE).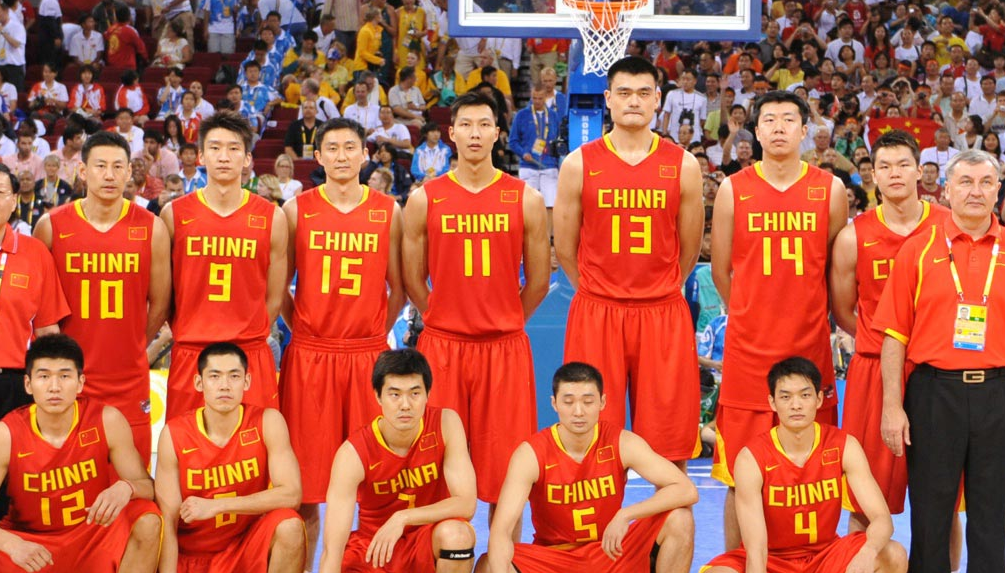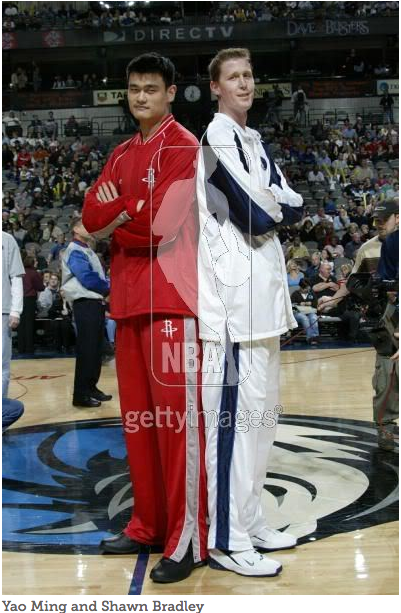 What I see is one of the most clear examples of Yao being at least 7′ 5″. To Yao's right and left stands Yi Jianlian and Wang Zhizhi. While Yi Jianlian has been listed at 7'0″ in the NBA directory (HERE) his predraft measurements (HERE) show that he is actually 6′ 11″ without shoes, 7′ 0.25″ with shoes, and has a 7′ 3.5″ wingspan. On the site Asia Basketball (HERE) Yi has been listed at 2.12 meters tall which seems very reasonable since in the picture he looks almost the same height at Wang Zhizhi if not just slightly shorter.
With Wang Zhizhi he has been listed at 7′ 1″ (2.16 m) in the NBA when he first was introduced to the US but in more recent year his height is labeled at 7′ 0.25″ or 2.14 meters which seems very reasonable (Wikipedia). Other sources (HERE) list him as just 7′ 0″. Asia Basketball lists him at 2.15 meters (HERE).
With most people's head, the tip of the top of their head to the middle level of their eye level is around 4-5 inches. For people with larger heads or larger foreheads like Yao, the top of his height to the middle of his eye level is probably 5 inches if not more. We can see that both Yi and Wang has their head below the eye level of Yao's and probably about 1 inch  below the center of Yao's eye level. This would definitely put Yao at the 7′ 6″ range which many basketball analyst have said about him.
As for Shawn Bradley, the ex-NBA player who has been most compared to Yao in height, Bradley was once measured on 60 minutes by Andy Rooney to have been actually 7′ 6.25″ with a rather error prone measuring tape. In most pictures of the two, Shawn does look slightly taller than Yao but maybe only by 0.25-0.5 inches at most. In the picture on the right shawn does look maybe 1 cm taller than Yao. You can clearly see the floor and their overall sneakers look about the same giving the same amount of shoe height. Their postures are about the same. They are standing relatively straight up with their back almost against each other. What is clear is that Bradley's eye level is probably 1 inch higher than Yao's but Yao does have a wider and thicker head than Shawn.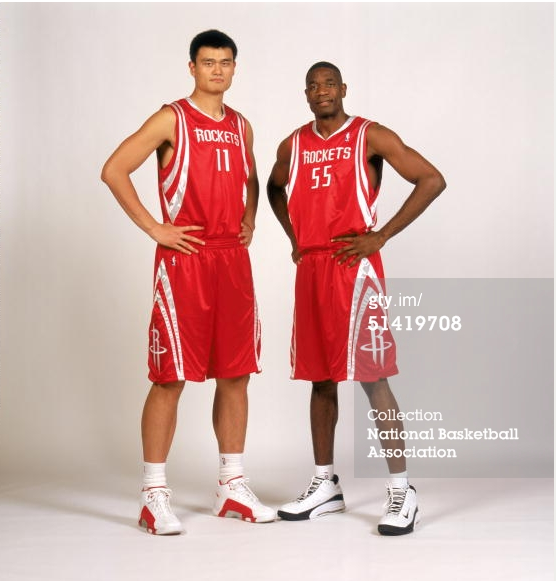 Now here is a picture of Yao with Dikembe Mutombo (source HERE) who has been listed at 7′ 2″ in his NBA career although some people have said that Dikembe was measured at 7′ 1.25″ without shoes when he first came into the League. No matter how I change the angles, Yao still looks at least 4.5-5 inches taller than Mutombo if not more. I am willing to admit that Dikembe is stnding slightly further away from the camera and his feet is at a larger angle.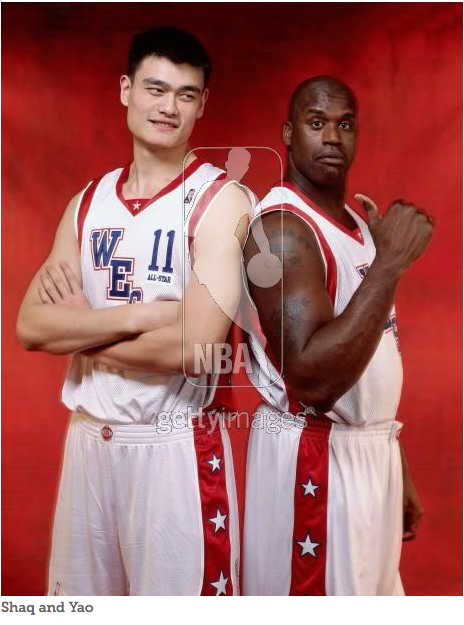 From photo bucket (source HERE)we see on the right of Yao compared to Shaq who we have almost concluded is the 7′ 1″ height he has always claimed. From this picture we can see that Yao's eye level is right where Shaq's head top is. Yao's head it slightly crooked with his neck twisting around but we can say that Yao is at least 4.5 inches taller than shaq.
From all these pictures I am going to make a final conclusion on Yao's height. Some of the more reliable resources have always said that Yao is 7′ 5″ but the sources from the US and NBA sources say he is 7′ 6″. From my experience, I know that the NBA often pads the height of its players by at least 1 inch to make themselves look bigger. Players who were listed at 6′ 8″ goes up to 6′ 9″. What is very noticeable is that most of the player who are extremely tall like Shaq and Yao, they don't lie or exaggerate their height since they are already tall enough. With Yao, I would say that he is probably 7′ 5.5″-7′ 5.75″ inches at the end of the night after the spinal disks have compressed. When Yao gets out of the bed in his morning, height I would guess he could be 7′ 6.25″-7.6.5″ in height. I know that for myself, my height ranges from 6'0″ when I get out of bed to 5′ 11.25″ (or even slightly lower) when I go to bed. With Yao and his body, his height should be very more varied. Since his height fluctuates so much and does probably dip down to even 7′ 5.5″ (but no lower) during the day, that was probably when the doctors made their measurements. When he was measured in the morning, he was taller. If we combine all the height variation, I would guess that Yao can be considered 7′ 6″ or just slightly less at 7′ 5.75″ than that overall since I am quite positive that he does go over the 7'6″ height limit for at least the early part of the day after waking up. That is why we can and most people do claim that Yao is 7′ 6″ tall.