Me: One of the reasons I still write these reviews for obviously fake, crappy internet pills that claim to increase your height is to build up on searched Google Keywords. The website and the product was created from old internet marketing practices, with a long sales page, and fake testimonials. The checkout feature is to use cash, personal checks, money orders, and old ways of transferring money. I guess over time these practices and obviously useless pills stopped selling and the owners and sellers moved on. What is amazing to me is that the packages they sell to you cost either $133 or $323. What kind of idiot would ever buy this stuff?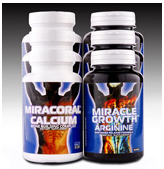 The website that sells this pill is Super-Pill.com. This is a segment of their sales pitch on the front page.
Miracle Growth Arginine® is made by a company you can trust
Miracle Growth® is the only arginine supplement that is produced by Ortho-Advanced™ Laboratories. It's part of a multibillion-dollar company that provides the highest quality medicines and supplements worldwide.
Ortho-Advanced Laboratories represents the country's leading research-based pharmaceutical and biotechnology companies. We carry over 6,000 nutritional and homeopathic products, representing over 180 leading brands.  
The pure Arginine in Miracle Growth® Arginine is researched and formulated only in facilities rated A+ by the government.  Some of the nation's leading research physicians and nutritionists work at our facilities.
Ortho-Advanced Laboratories was named one of the 500 fastest-growing private companies in the United States for the third year in a row by 500 Magazine.
Contact Us support@super-pill.com
Call Us: 1 (800) 778-5714
Write To Us
Ortho Advanced Laboratories
11432 South St. #367
Cerritos, Ca 90703
1 (800) 778-5714