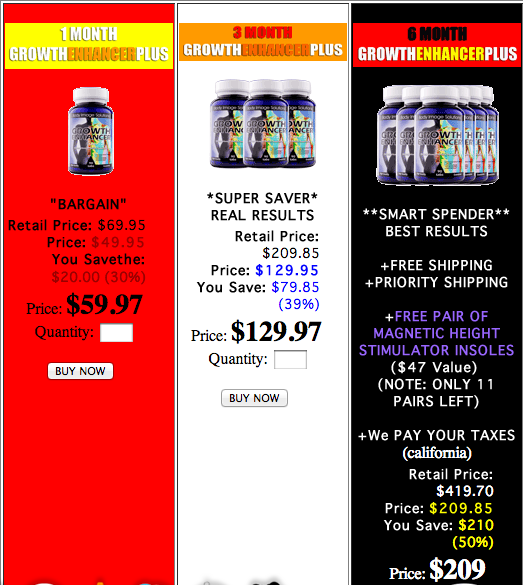 Me: I am finding even more products these days which claim to help people grow taller. This product labeled "Growth Enhancer Plus" is a small pill which the website (HERE) claims will help you grow taller by up to 34% in a few minutes after taking it! I have never seen any internet marketers make a claim this insane before in my life. You can't even say stuff like this for weight loss pills. Even miracle drugs that are fake sold on the internet still need to take a few days or weeks for their effects to work. Somehow this pill pusher has the incredibly amazing audacity to say that a pill can work Instantly to change a person's height by over 1/3rd??? Who would believe that? Plus, they also will throw in a pair of "Magnetic Height Stimulator Insoles" for good measure if you buy 6 months worth of this damn stupid product. I am really curious how many people would be stupid enough to decide to use this obviously non-feasible product.
Keep in mind this website and this product seems to have been created a long time ago, from the late 90s or early 2000s. Maybe back then the people who just found the internet were more naive about this type of stuff but I would still expect that the people would realize that very, very few pills have any effect, at least within the first few minutes for anything, let alone height increase. And that is what the people are claiming for this pill. It seems the company or organization that was selling this product was "Body Image Solutions" from Bellflower, CA. If I was to guess, that company or organization does not exist anymore.
Here is the exact words they use on the front page.
---
However, if you'd like to discover how you can…
Increase height by a dramatic 34.7% (or more!) by swallowing a tiny pill three times daily– automatically!

Quadruple the intensity you get from performing the stretching exercises automatically!

Easily start to look and feel younger as the days go by– automatically!

Avoid time wasting chores preparing yourself meals that help you grow, height increase– automatically!

Reap the benefits of natural height increase from anywhere in the world since you can take your grow taller pills wherever you go– automatically!
… then you'll want to pay close attention to what we are about to share with you on how to grow taller.
---
You'll understand why when you look at our track record:
Body Image Solutions has been providing grow taller GEP supplements to many people every month for over one year. The results of these individuals have been amazing.
The individuals that have been performing the exercises have accelerated their height increase by 37%.
Many of them personally thank us for their results and fight to receive our supplements for an additional year. We rarely provide free stuff but these individuals deserve it.
The results our clients have received have attracted more customers than we had expected. Once they find something that works most of them tell their friends and family who alsoend up wanting to try our product to grow taller.
Because we have personally taken the supplements ourselves some of our colleagues feel the price we currently provide is too low for bone growth. They suggest we increase the price soon.
Increasing Your Height Progress By 37% (or more!) – In Just A Few Extra Minutes, With NO Extra Costs…
Too often, individuals mistakenly assume that a little effort is all you need to gain height. They don't realize that supplements play a HUGE role in building and growing both your body and mind!
Let us give you an example of exactly how beneficial taking supplements can be… we have a large number of people who know and trust us. And when we do comprehensive research on growth every individual we contact is excited and willing to participate.
Well, just recently we sent these individuals a six month supply of our GEP height increase pills and within three months we had received results from nearly 85% of them!
They added a few Cm of height by just taking pills, Seriously! They are growing taller, period.
That's why we say our grow taller supplements can dramatically increase your overall height— if you use them the way we show you, that is!