So I decided to try something else today instead of just writing about the idea like so many other posts.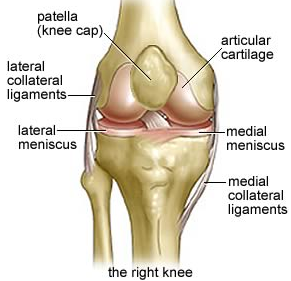 As for the technical details, I proposed in the video actually two places for the chisel to be hitting at. I pointed at the wrong place the first time but meant to point at the 2nd locations. The place to hit is supposed to be higher up, since the lower areas are covered in non-bone tissue. We are trying to hit the bone, not puncture the skin.
Exact Location: This idea I am proposing is supposed to be used only on the proximal section of the lower leg bone, the tibia. The fibula does not need to be hit. The exact location is on the horizontal closed circular path where the area under the knee ends. Note the picture on the right side. Where the bottom line is point at where the term "medial collateral ligaments" is the at the horizontal plane or line which you should lightly be tapping at to induced fracture. However you can only get about 180 degrees of the entire bone surface due to the non-bone tissue surrounding it on the under part of the knee.
Remember, the idea is to gently tap at the bone just strong enough to cause some small fractures and to cut past the periosteum layer, which is only maybe 10-20 cells thick.
I created a video using my iphone and the video quality seemed to have come out better this time. The problem this time seems to be the audio quality, which is low in volume. You'd need to turn up the volume higher to hear me clearly.
The video is taken from the Natural Height Growth Youtube Channel which you can subscribe to.