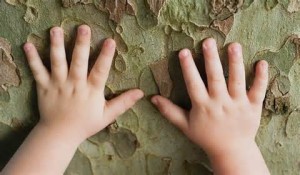 Correlation does not imply causation.  Just because the growth plates disappear correlates with the near cessation of longitudinal bone growth does not mean that the disappearance of growth plates causes the cessation of longitudinal bone growth.  Maybe a uniform factor causes both the disappearance of growth plates and cessation of growth.  Maybe the cessation of growth causes the disappearance of growth plates.  May another factor ceases both.
I'm testing the hypothesis that maybe it's the joints themselves that place the constraint on longitudinal bone growth.  If you look at the above image of a toddlers hands you notice the near absence of joints/knuckles.  One of the main difference between adult and childs bones is that adults have much prominent epiphysis.  LSJL attempts to stimulate that epiphysis in one way. What if the epiphysis itself constrains growth. If you look at the image below by pulling my finger that I'm sort of creating the knuckle gap that's like the child hand.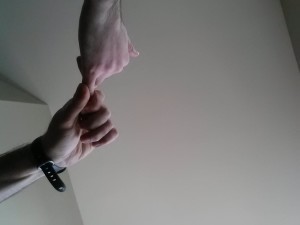 So the test is to see if by pulling the finger that we can alleviate the potential constraints on growth.  I can't do it 24/7 and if it does constrained growth there should only be a need for certain periods of time where growth is unconstrained by the epiphysis.  So I'm going to be pulling my right pinky finger for 15 minutes.  I need time to perform LSJL too.  All my left fingers are longer than my right and there are some images below so if my right pinky becomes longer than my left.
We can only really draw conclusions if this works.  If this works then we can see that it is the epiphysis itself that is the sole constraint on longitudinal bone growth and that by pulling the finger for enough time during the day we allow for growth to occur.  If it doesn't work then we can't really say anything.  Maybe I didn't do it for enough time or maybe you need to stimulate neo-growth plate formation in addition to preventing the epiphysis' from constraining growth.
If this works it also bodes well for growing taller via spinal height as you can stretch those as well.  However, usually when you stretch in one way you usually compress another and any activity involving the spine is more dangerous due it's important bodily role.
This may sound crazy.  How can it possibly work?  I just saw a toddlers hands and noticed that gap where joints could be.  Then I pulled my finger and saw the gap sort of made my hand more toddler like.  The logical stretch is that how can you possibly grow without stimulating growth plates.  Well, every single field of science is understudied.  Correlation does not apply causation.  The hypothesis being tested here is:
The epiphysis puts a constraining factor on longitudinal bone growth by pulling the finger apart you allow for release from that factor temporarily allowing for possible new longitudinal bone growth to occur.