Here's the last LSJL update.
Here's the latest feet images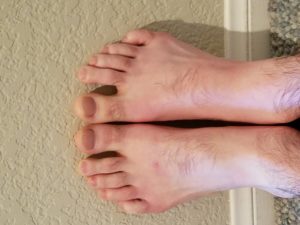 One effect that clamping my right foot has had is that my right quad is a lot bigger than my left quad now.  I left weights as muscle should help with LSJL as muscle can contract to stimulate bone and generate hydrostatic pressure.  Differences in feet size change weight distribution.  So now I'm going to clamp my left foot and not my right foot to try to get it to catch up.  If I can bridge the gap between the two that'll be strong proof of LSJL.
Here's a picture from another angle that shows the size difference better: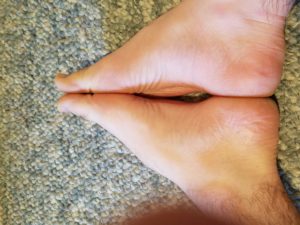 The right calcaneus is also bigger so if I get some left foot growth I'll gain some small but significant amount of height.
I may have gained some arm length but it's within measurement error.
I don't think clamping the toes is what's helping.  I think it's the clamping of the feet itself.  I am doing hand clamping as well.  I am clamping individual fingers and pretty much the whole hand is growing and not the specific fingers.  I have x-rays showing that my left hand fingers were longer except for the metacarpal.  So if I can't get my left foot to catch up that'll be another option to prove LSJL.  If my right hand keeps growing significantly I can get x-rays.
We'll see how things go with my left foot.  It seemed I was almost ready to go up a shoe size with my right foot but with the muscle imbalance I'll have to go with my left and get them to equalize.