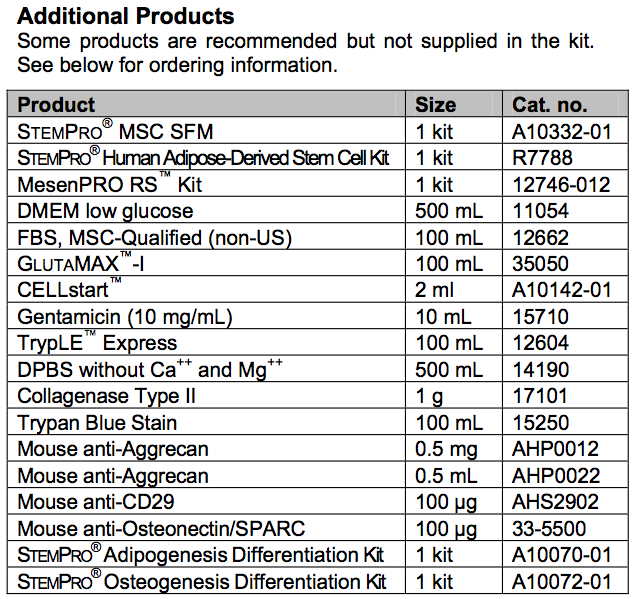 Me: I have just become aware very recently that there is at least one company where you might be able to order and get chondrogenesis raw materials which is Invitrogen. They seem to sell pretty much everything that I would want to get if I had a real laboratory to work with to test different types of growth factors to see how they would affect limb growth and limb fractures. There are stem cells, progenitors cells, osteocyte/chondrocyte differentiation mediums, and a lot of other stuff. The stuff is not allowed for personal use of course but in maybe a few years we could be able to get them for human use if we can prove in the lab in its efficacy.
Let's see what some of the products you can find are…
For the StemPRO Chondrogenesis Differentiation Kit, you can click HERE to get to  product catalog PDF for the company Invitrogen. This also includes the STEMPRO® MSC SFM or MesenPRO RSTM Medium
The STEMPRO® Chondrogenesis Differentiation Kit Contains…
STEMPRO® Osteocyte/Chondrocyte Differentiation Basal Medium
STEMPRO® Chondrogenesis Supplement
Note that the "Intended Use is only for For research use only (RUO). Caution: Not intended for human or animal diagnostic or therapeutic uses."
Until I and other researchers are absolutely sure and have tested these products for safety and efficacy, this product is not to be used yet.
Note: On the right side are other products that are recommended but not supplied in the kit.
From the Lonza Group website link HERE you can get the product called Poietics which is human ADSCs which is used for chondrogenesis lab experiments.
From the RND Systems website for a product catalog PDF located HERE…
StemXVivoTM Chondrogenic Supplement (100X)
Media Supplement for Human and Mouse MSC Chondrogenesis Catalog Number: CCM006 Storage: ≤ -20° C Volume: 500 μL
The StemXVivo Chondrogenic Supplement is a media supplement for the differentiation of mesenchymal stem cells (MSCs) into chrondrocytes. All the components have been selected and optimized for human and mouse MSCs chrondrogenesis. This product does not contain antibiotics.
Intended Use
StemXVivo Chondrogenic Supplement is designed to be used with StemXVivo Chondrogenic Base Media
(R&D Systems, Catalog # CCM005) for the desired differentiation application. It may be used with other base media to differentiate MSCs depending on the experimental design of each researcher.
From Cyagen website link HERE…
You can get the Mesenchymal Stem Cell Chondrogenic Differentiation Medium for about $430.
Specifications
Highlights:
– Highly effective in inducing mesenchymal stem cells into cartilage.
– Can be used for mesenchymal stem cells from various tissues/organisms.
– Packaged as a kit with Alcian Blue included.
– Batch-to-batch consistency.
Kit Components:
 Mesenchymal Stem Cell Chondrogenic
Differentiation Basal Medium
 194 ml
 Dexamethasone
 20 μl
 Ascorbate
 600 μl
 ITS Cell Culture Supplement
 2 ml
 Sodium Pyruvate
 200 μl
 Proline
 200 μl
 TGF-β3
 2 ml
From ScienCellOnline.com…
Mesenchymal Stem Cell Chondrogenic Differentiation Supplement
Description
Mesenchymal Stem Cell Chondrogenic Differentiation Supplement (MCDS) is a medium supplement designed for differentiation of primary mesenchymal stem cells (MSCs) to an chondrogenic lineage as determined by Safranin-O staining in vitro. It is a sterile, concentrated (100X) solution. The supplement is designed as an additive for mesenchymal stem cell chondrogenic differentiation medium (MCDM, Cat. No. 7551) and should be used in conjunction with that medium.
Product Use
MCDS is for research use only. It is not approved for human or animal use, or for application in in vitro diagnostic procedures.