To make things a little lighter today, I wanted to make a post about the tallest toddler in the world. Enter Karan Singh.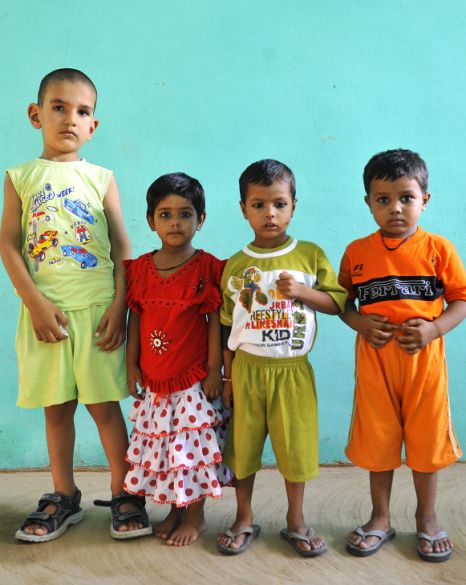 Back in 2010 a few articles was written about this boy wonder who was towering over other babies his age. At the time (Fall 2010) he was 2 and a half years old and stood a crazy 4 feet 5 inches. Of course one does not need to assume a pituitary gland condition isn this case. It appears that his height is all genetic. His mother is Shweatlana Singh, who has been billed as Asia's tallest woman. However that fact comes into contention because on the website The Tallest Man she is listed and measured before at "only" 6'8″.  His father is 6ft 7in tall Sanjay Singh. Now that is a tall family.
Karan himself is nearly double the height of kids his own age and has the height of most kids at the age of 10. He was born at 13 lb and 24 inches. Compared these numbers to say Yao Ming's numbers (12 lb and unknown height length) and one realizes that this kid is going to be HUGE. His mother already is stating that he will soon outgrow her. Being at his age and height, he appears to be constantly hungry always asking for food.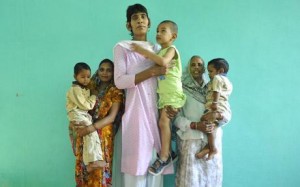 Here is a nice picture of his mother to the right . Very tall. What is a little concerning to me is whether this child is truly going to get to his true maximum height getting only the type of food and nutrition that is available in his native country. Shouldn't a toddler like him who has the potential to become 8 feet tall naturally be given the best in nutrition, food, and medical care? I am a big basketball fan and would enjoy watching him play in the NBA in maybe 15 years. Whatever happens I would like to keep track of his growth progress over the years to see if his height potential is reached as his parents proclaimed.
From the video he does look extremely large.
Reference Link 1 - Reference Link 2 – Reference Link 3