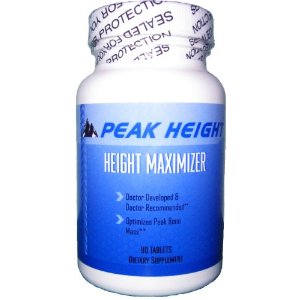 I realize that sometimes I do reviews of product or programs without labeling them as a product or program review.
All I write in the title is "Increase Height And Grow Taller Using <Enter New Height Increase Product Name>"
I wanted to apologize for that bad habit. I will try in the future to make my article and post titles more accurate in description. This time, I wanted to review another nutritional supplement that claims that it can help increase one's height. The name is Peak Height, Height Maximizer.
Apparently if you click on the original page and then on the picture, it takes you to Amazon where you can order this height increase supplement for $180.00 for a bottle which is supposed to last you for 6 months. From the look of the reviews (5 curently) the product does like it has poor performance. You can find the Amazon page which sells the product HERE to read the reviews for yourself if you wanted to.
On the website where I originally found about this product (Squidoo) HERE, this is what is said about the product.
---
Peak Height is a Doctor designed nutritional supplement to increase height. It contains optimal amounts of nutrients that have been scientifically proven to increase height. FACTS: Ingredients Vitamin D3 as cholecalciferol, Vitamin B12, Dl-alpha tocopheryl acetate, Pyridoxine, Calcium Carbonate, Zinc, L-arginine, L-ornithine.
Peak Height is the ONLY height enhancer designed by a U.S. Medical Doctor. Does Peak Height Work? Yes, Peak Height is 100% Money Back Guaranteed to work. Our height pill was developed & formulated from hundreds of medical studies to find the perfect mix of ingredients to naturally help your body achieve its maximum genetic potential height. How does Peak Height Work? Peak Height works by supplying your nutrient hungry bones with the fuel they need to unleash their potential.
A recent study from the American Academy of Pediatrics showed 70% of U.S. adolescents are lacking nutrients essential to bone growth. Peak Height pills contain clinically proven optimal amounts of these nutrients to maximize height. To help explain how Peak Height works I'll use an analogy. If you have a plant, and you water it and give it sunlight, it will grow. However, if you have that same plant and you water it, give it sunlight but also give it plant food, it will grow more because it has more of what it needs in order to grow!
Peak Height works the same way with your bones, it gives them everything they need in order to maximize their growth in the limited time that people are able to grow. Is Peak Height Safe? Yes, Peak Height was formulated by a United States Medical Doctor after years of research. All ingredients have been shown both safe and effective in clinical studies. Our height pill is manufactured in the United States to the highest specifications. Does Peak Height have any side effects? No, absolutely 100% free of side effects.
Me: Okay, I am going to make this really short and clear. The product will not work for anyone who has already passed puberty and has their growth plates fused. It is a nutritional supplement and no "all natural, multi-vitamin, nutritional dietary supplement" is going to reverse the process of epiphyseal plates, at least that I know. Looking at the ingredients, they are important vitamins and minerals that were probably essential towards making sure your body reaches it's maximum growth potential but once your bones seal, those minerals and vitamins can only now help keep the bones thick and dense and strong, not longer. Maybe if you were taking the pills for bone strength and density it could possibly be effective, but definitely not for longitudal growth of the long bones, which is what actually makes up most of one;s height. It is a a product that doesn't work ,and if one defines a height product that doesn't work as a scam, then you can called it a scam. I just claim that it won't work for what it was advertised for.