I had stated before once (or a few times before) that I used to really be obsessed with basketball as a teenager. I would practice for 4-5 hours everyday in the Summer heat. I wanted to possibly be a NBA player but I never did gain the size or the skills no matter how much I practiced. I always got my ass handed to me when going up against guys, even ones smaller than me.
I guess I realize now that my fate probably belongs more in the research lab than the court. So for today I wanted to write a rather fun post where I compare the height and size of Dwight Howard and Shaquille O'neal and see what could really claim to be the real "Superman" which they both have been labeled at some point in their professional basketball career. Of course, this will be similar in style and tone as a previous older post I did where I compared the height of Lebron James vs Kevin Durant, who I consider to be the two best basketball players on the planet today.
So let's first see what the figures seem to say about the Ex-NBA star Shaquille O'neal.
If you have ever been involved in the NBA or know much about Shaq, it is that he has been almost always quoted and listed at a height of 7′ 1″ (2.16 meters) tall.
From a quick search on the internet from Wikipedia, Basketball Reference, Yahoo, NBA, they have all listed Shaq at 7′ 1″ (2.16 meters) in height.
From the NBA Predraft Measurements Profile on him on DraftExpress.Com (found from this link HERE) we see that Shaq was listed with these numbers….
He was drafted in the 1992 NBA as the #1 pick to the Orlando Magic.
Height Without Shoes: 7′ 1″
Height With Shoes: N/A
Weight: 303 lb
Wingspan: 7′ 7″
Standing Reach: 9′ 5″
Body Fat: 12.2
Maximum Vertical: 36 "
Maximum Vertical Reach: 12′ 5″
Birthday: 03/06/1972 (40 years old by this time in October 2012)
NBA time: 18 years with Orlando Magic, Los Angeles Lakers, Phoenix Suns, Miami Heat, Cleveland Cavaliers, Boston Celtics
Shaq's weight has been far more volatile and has been listed from 325 lb (147 kg) on Wikipedia to claims that he was 360 lbs at one point.
From this source link HERE we find out that Shaq's biological father named Joseph Toney who worked at a Newark Home Shelter is 6′ 1″ who used to be a local basketball start. Shaq's mother Lucille has been claimed to have been 6′ 3″ which is extremely tall for any female. I remember years ago reading from a article that both of Shaq's grandfathers from his mother's and father's side were 6′ 9″ in height, which is really insane.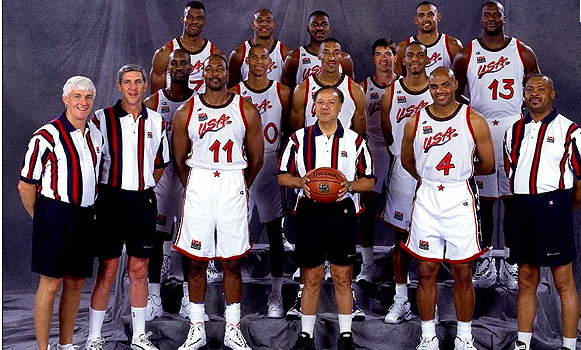 We can see from the picture on the right which is of the 1996 Olympic Basketball Team that Shaq with his abnormally large shoes is standing on a podium with the other basketball All-Stars. It is sort of hard to make out which players are standing where but if you look close enough, you can make out the fact that Shaquille and David Robinson are standing on the same level height, which is three podiums off the ground. I would guess the reason why they took a picture of the team in this way was that they wanted to get a picture of all of the players in the Olympics team and get a good picture of all of the faces. That is not possible if certain people are taller than others which would block the face of some people. If you look closer, you would see that John Stockton and Hakeem Olajuwon are the other two players standing on the same ledge height. Stocken is listed at 6′ 1″ which would put his head at around the shoulder height area of Shaq, which he is. Olajuwon has been listed at 7 feet when he was playing for the Houston Rockets in the 90s but he admitted that his height was lower. I would guess his height was probably 6′ 11″ or maybe even 6′ 10″ (which is a very loweestimate for him). Olajuwon's height reaches the eyebrow of Shaq and Robinson so his height seems to be right. Robinson was well known for being tall at 7′ 1″ as well. He was a very respected and kind, honest man so his listed height would be honest an accurate. If we look at the height of Robins and Shaq then, their height are almost the same, although Shaq may have slightly thicker shoes than Robinson.
There is a common story told by Shaq that at the age of 13, he was already 6'6″ or 6′ 7″ when he was stationed in Germany because he was what some people called a "military brat". It was there where he met Coach Brown, who would eventually become his coach at LSU many years later.
His shoe size has also varied throughout his career being either listed at 22 or 23, which seems to be the largest feet of all the NBA players in history. Shaq is a very big guy so the heel and thickness in his sneakers must be large as well. The normal athlete has shoes or sneakers that are about 1-1.5″ thick. I would guess that since Shaq's feet are so big, he has to get his shoes specifically designed so his shoe's heel might be ever thicker, up to 2 inches maybe.
What is really strange is that on the CelebHeights.Com website for his profile HERE, there are actually people who claim that Shaq might "only" be 6′ 11″ which I have found really hard to believe. Most people who have ever met Shaq have all stated that he is a very big man, a true giant and almost no one doubts that Shaq is the 7′ 1″ he has been claiming for the last 20 years in basketball. I remember reading from a article post that Chris Kaman who is 7′ 0″ himself had stated that Shaq is probably the biggest man he has ever met, in terms of size, because there are a few guys in the NBA who might have been taller like Yao Ming.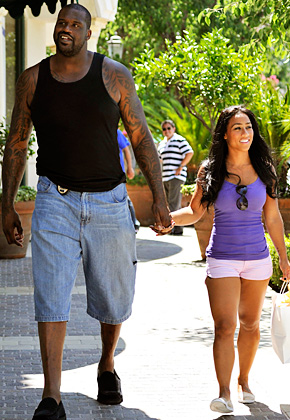 Here is a picture of Shaq with his current girlfriend Nicole "Hoopz" Alexander who was a winner in a reality show (Flavor of Love). Alexander has been claimed to be around 5′ 2″ in height. This pictures gives a person a very good perspective at just how big Shaq is. There is only supposed to be a 2 feet or 24 inch difference in their heights but the picture makes it look like the height difference is far larger. If I was to make a guess, it would be maybe 3 feet difference, not 2. But, one should note that Alexander is not wearing any high heels or thick heeled shoes and shaq seems to be in his shoes, which give 1-2 inches of extra height. Still, the difference in size of the couple is something that I would do a double take on if I ever walked past the couple in the street.
One poster on the celebheights website posts this…
RisingForce says on 18/Jan/12 
RP says on 13/Jul/11 
OK….found out a couple of facts on Shaq. He was measured & weighed twice leading up to the '92 draft. At one he was 7'0 5/8″ & 301 lbs….at the other he was 7'0 7/8″ & 303 lbs. In 2000-2001 season with the Lakers he weighed in at 327 lbs at training camp. Also, at one point after a injury kept him from practicing & performing any cardio for about 6 weeks in one season with the Lakers, he got as heavy as 368 pounds!!!
Can anyone verify this? Oddly specific figures to make up so that could be accurate, but when I've searched, nothing comes up to back this stuff up.
Me: I can only say that the facts might be true. When Shaq was photographed with certain other guys who were profiled at 7′ 1″ like Wilt Chamberlain or Kareem Abdul Jabbar, Chamberlain did look like he was taller than Shaq.
Now let's see what Dwight Howard profile shows.
From sources like
Dwight himself states clearly in this Youtube video HERE (uploaded in 2008) that he is 6′ 11″. He also states that he weighs 270 lbs in the video.
From the NBA Predraft Measurements Profile on him on DraftExpress.Com (found from this link HERE) we see that Dwight was listed with these numbers….
High School:Southwest Atlanta Christian Academy
Hometown:Atlanta
Drafted: Rnd 1, Pick 1 in 2004 by Magic
Height Without Shoes: 6′ 9″
Height With Shoes: 6′ 10.25″
Weight: 240 lb
Wingspan: 7′ 4.5″
Standing Reach: 9′ 3.5″
Body Fat: N/A
No Step Vertical: 30.5″
Maximum Vertical: 35.5 "
Maximum Vertical Reach: N/A
Birthday: 12/08/1985 (26 years old by this time on October 2012)
To see whether Dwight is either the 6′ 9″ listed in the predraft measurements page or the 6′ 11″ he claims, let's look at a few photos I have found around the internet. These two pictures are the photos of the 2008 Olympic Men's Basketball Team. In the first picture, you can see that Coach K decided to line up all of the players by height, from tallest on the lef to the shortest on the right.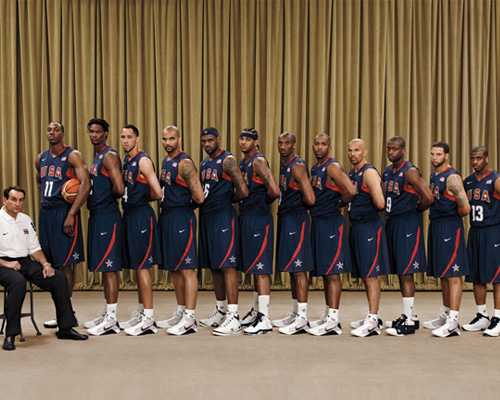 We can now see just how immense the  variability and change in size is of the basketball team. Keep in mind that Chris Paul has been listed at 6 ' 0″ which is slightly taller than the average US male citizen. From the picture and maybe the eye perspective it looks like Dwight could be maybe even a 1 foot and a half taller than Paul but he is supposed to be either 9 inches or 11 inches taller than Paul. We can estimate that the height of Dwight Howard is probably the same as Chris Bosh. From the sources and links found, Chris Bosh has been listed at 6′ 11″ on the NBA and basketball sites. I remember seeing a Youtube video once where Jay Leno made the obvious proclamation while talking to Chris Bosh that he is very tall. Leno asked Bosh how tall he is and Bosh said he was 6′ 11″. I seem to remember that earlier in Bosh's career with the Raptors (I'm not sure about this fact) he was listed at 6′ 10″. The next tallest in the lineup would be Tayshuan Prince who has been listed at 6' 9″. From the picture, I would easily guess that Prince is at least 2 inches shorter than Howard. It is important to note that Bosh is well known to have a rather long neck, which has been compared to a giraffe by other people. Howard has been talked about on basketball forums for having a rather small head. This shows that in terms of where the shoulder line is and wher ethe neck starts, Howards has a clear higher shoulder level than anyone else. This probably creates the illusion that Howard is taller than what he might actually be.
Here is another picture of Howard with the 2008 Olympic team, in their white uniforms.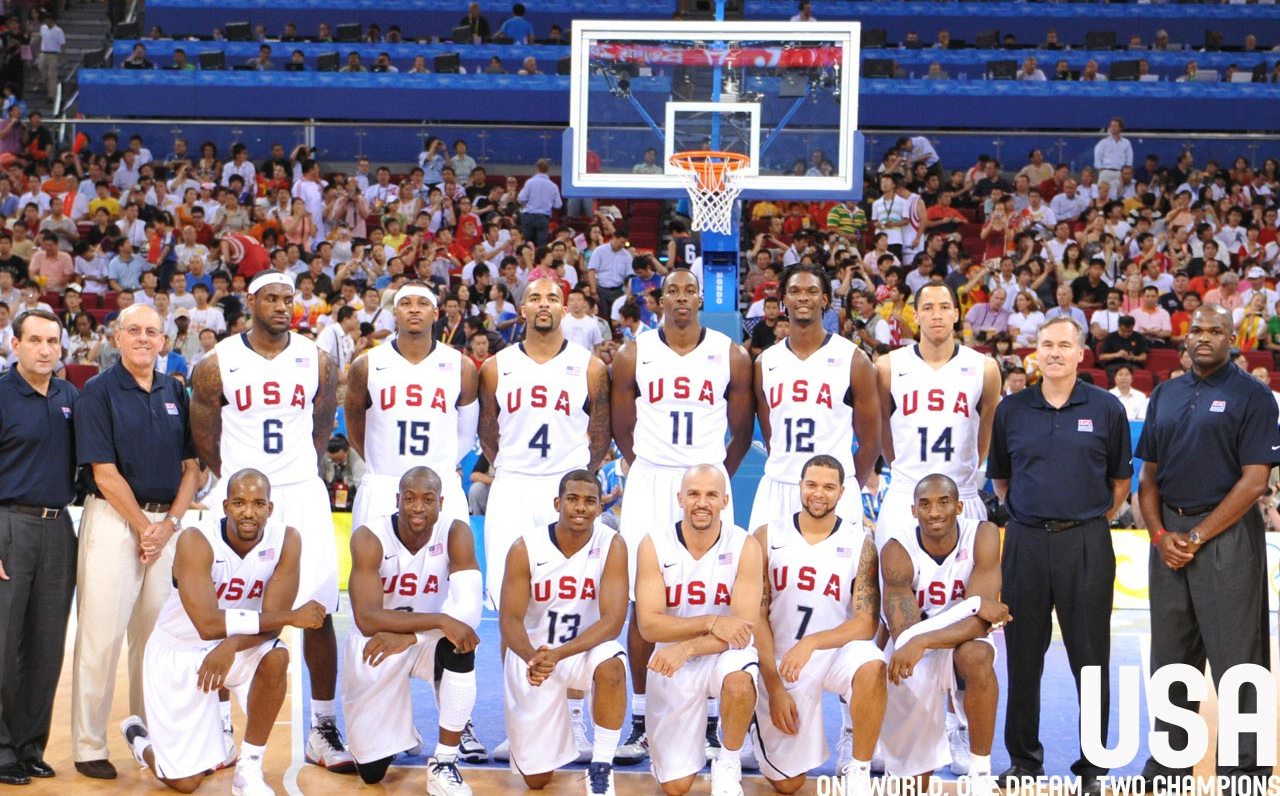 I think it is rather clear now that Dwight Howard is probably not the 6′ 9″ that was measured on the predraft. Dwight was a few select players who came to the NBA directly from high school. I think Diwght was only 18 and as I have shown in previous posts, a male does not really stop growing until he is around 19-21. Even the way how NBA players have had growth spurts, it would not be that wild to state that after Howard was in the NBA, he continued to grow another 2 inches.
Most people have stated that the athleticism of Dwight is extremely high, and people like 4 time NBA champion Tim Duncan at 6′ 11″ has admitted that Dwight is far more talented than he was during his development.
Dwight is know around the NBA for his chiseled muscular build, his shoulders which are very big which has had many people wonder whether he has been using steroids to gain that big, and and his amazing jumping ability. In the  2008 Sprite Slam Dunk Competition which happens usually during the Halftime break for the annual All-Star game, Dwight jumped up to a reach of 12′ 6″ which is 1 inch higher than Shaq's old record of 12′ 5″. That event can be validated from this Youtube Video of the event HERE.
As for the real question "Who is the real superman?" I would have to look into more than just the physical attributes that make up a person. Superman was not only big and strong, he also had strong character and cared about other people. When the character of Superman was first created in the 30s around the Great Depression, his listed height was 6′ 2″ and I think around 220 lbs. Back then 6′ 2″ was considered very big, but these days, there are many people who are taller than that. Some of the actors who played Superman in the movies like Christopher Reeves at 6′ 4″ and Brandon Routh at 6′ 3″ are taller than the original superman. When it comes to size, Shaq would be the clear choice. In terms of size, Shaq may have been the heaviest, and strongest NBA player in history, although Wilt Chamberlain has been shown to be super strong as well. For Wilt and Shaq, the very rules of how the game of basketball had to be changed because they were so dominant at one point.
For Dwight, most NBA greats have talked about ihs insane athleticism and jumping ability. It is very rare to find a man who is almost 7 feet be able to jump that high in the air. At his best, he is around 270 lbs of almost pure muscle, chiseled features, and can jump higher than shaq.
When you give the title or nickname of "Superman" to a person in any profession, they have to be great at almost everything when you combine and analysis all of the elements of the game. Offensively Dwight has been rather lacking in his career. Because of his jumping ability, he is a great shot blocker.
Personality wise, Shaq and Dwight both have a very friendly, outgoing, cheerful persona. Towards the media, Shaq has ventured into more venues than Dwight at this time. Shaq has been a musician producing a few records, had his own reality television show (even if Dwight was on it once), Has been in a few movies that he starred in, had been shown to be able to break dance on TV, has a Ph.D, has had his own statue unveiled at his alma mater, has being buying and investing in a diversified portfolio of companies, been a big social media star with twitter, and many other projects. Dwight has been on many commercials, TV appearances, has a youtube profile.
In terms of professional accomplishments, Shaq has won 4 NBA championships with a few MVPs while Dwight has been Defensive player of the year a few times ans is still chasing after his first championships.
When it comes to be the question of  title of superman to either Shaq or Dwight, I would have to give it to Shaq at this point because of his professional accomplishments and also his many projects and ventures out of his basketball life. He has been accomplished in academics, athletics, music, and television.