Me: I guess this post will be to show where you can actually buy the medical equipment for external orthopedic surgical fixations on Alibaba without the need for being a medical professional. For most suppliers of medical products like devices, the manufaturer or supplier would ask you to call them through a hospital or clinic line to show you are a doctor or associated with the medical establishment. It seems this company in China will sell to buyers as long as they are willing to buy at the bulk quantities that Alibaba has set up for them.
Obvious nobody would be crazy enough to perform limb lengthening surgery on themselves since they are not qualified, don't have the know how, and are not crazy. The supplier might be someone we could talk to if we ever decide to test any distraction techniques on sow (sheep) or pig subjects. However, we would get into a lot of trouble with many regulation and animal rights organizations like PETA. It is still good to know that if we needed the external fixators for testing and experiments, we have a company which can provide us with the needed parts.
The company is named "Changzhou Meditech Trading Co., Ltd." from Jiangsu, China.
You can go to the section for External Fixators HERE. I only decided to copy and paste two of the over 20 products you can find on the company website here. You can have the fixators that are not rings and the ones that are ring based.
---
From source link 1 HERE…
Bone Lengthening External orthopedic surgical fixation–Type A
Language Option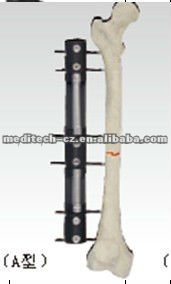 Bone Lengthening External orthopedic surgical fixation–Type A
Report Suspicious Activity
Product Details:
| | |
| --- | --- |
| Properties | Orthopedic Surgical Instruments |
| Type | Needle,Hook |
| Brand Name | meditech |
| Model Number | MED-E001 |
| Place of Origin | Jiangsu, China (Mainland) |
| Package | Medical plastic film |
| Color | black |
Payment & Shipping Terms:
FOB Price:
US $ 180-280/ Piece
Get Latest Price
Minimum Order Quantity:
1 Piece/Pieces
Port:
Shanghai
Packaging Details:
Plastic film
Delivery Time:
According to order quantity. Usually, within 10 days.
Payment Terms:
L/C,T/T,Western Union,Paypal
Supply Ability:
100 Piece/Pieces per Week
Detailed Product Description
1. Aluminum Magnesium Alloy
2. Including: pin…
3. CE&ISO
4. For bone fixation
5. Orthopedic surgical fixation
Name
Bone Lengthening External orthopedic surgical fixation–Type A
Material
Aluminum Magnesium Alloy
Primary use
for bone fixation
Size
Large
Medium
Small
Remark
We produce customer-made fixations
Contact us: 
David Zeng
Mobile:008618018238315
Changzhou Meditech Trading Co.,ltd.
Add: Room 527, Building 2, Fuhan Garden, Xinbei District, Changzhou, Jiangsu, China
P.C:213022
---
From source link 2 HERE…
High quality Tibia Lengthening Orthopedic External Fixation-Type A
Language Option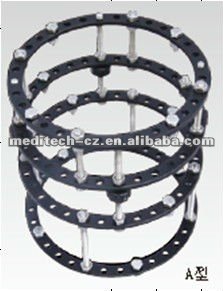 High quality Tibia Lengthening Orthopedic External Fixation-Type A
Report Suspicious Activity
Product Details:
| | |
| --- | --- |
| Properties | Orthopedic Surgical Instruments |
| Type | Needle,Hook |
| Brand Name | meditech |
| Model Number | MED-E001 |
| Place of Origin | Jiangsu, China (Mainland) |
| Package | Medical plastic film |
| Color | black |
Payment & Shipping Terms:
FOB Price:
US $ 220-320/ Piece
Get Latest Price
Minimum Order Quantity:
1 Piece/Pieces
Port:
Shanghai
Packaging Details:
Plastic film
Delivery Time:
According to order quantity. Usually, within 10 days.
Payment Terms:
L/C,T/T,Western Union,Paypal
Supply Ability:
100 Piece/Pieces per Week
Detailed Product Descriptions
1. Aluminum Magnesium Alloy
2. Include: pin, screwdriver…
3. CE&ISO
4. For pelvic fixation
5. Orthopedic external fixation
Name
High quality Tibia Lengthening Orthopedic External Fixation-Type A
Material
Aluminum Magnesium Alloy
Primary use
for tibia fixation
Size
Large
Medium
Small
Remark
We produce customer-made fixations
Contact us: 
David Zeng
Mobile:008618018238315
Changzhou Meditech Trading Co.,ltd.
Add: Room 527, Building 2, Fuhan Garden, Xinbei District, Changzhou, Jiangsu, China
P.C:213022