Yesterday while I was looking over basketball related topic I came across an article entitled "The Highest-Paid African Players in NBA History" and I realized that there was a case of mistaken identity. There was a total of 10 different people listed who were from Africa over the years who have become very successful playing in the NBA. They are…
Mamadou N'Diaye – Country: Senegal – Height: 7′ 0″ – Years in NBA: 2000-2005
Manute Bol – Country: South Sudan – Height: 7′ 7″ – Years in NBA: 1985-1995
Bismack Biyombo – Country: Democratic Republic of Congo – Height: 6′ 8.5″ – Years in NBA: 2012
Luc Mbah a Moute – Country: Cameroon – Height: 6′ 8″ – Years in NBA: 2008 –
Hasheem Thabeet – Country: Tanzania – Height: 7′ 1.5″ – Years in NBA: 2009 –
Michael Olowokandi – Country: Nigeria – Height: 7′ 0″ – Years in NBA: 1999 – 2007
DeSagana Diop – Country: Senegal – Height: 7′ 0″ – Years in NBA: 2001 – 2013
Luol Deng – Country: South Sudan – Height: 6′ 7″ – Years in NBA:
Hakeem Olajuwon – Country: Nigeria: Height: 6′ 10″ – 6′ 11″ – Years in NBA:
Dikembe Mutombo – Country: Democratic Republic of Congo – Height: 7′ 1.5″ – 7′ 2″ – Years in NBA:
We realize that some of the information has not been added like what years were the players playing in the NBA. However, what I wanted to raise awareness for today is that there was a mistake made on that website, and it shows that there has been a case of mistaken identity. Of course there is a good reason why any journalist might make this easy to make mistake.
There are THREE different people named Mamadou N'Diaye (That is relatively well known)
The picture shown on the website is of the younger one while the player that was profiled was of the older one.  I have since given an email to the writer, a Mr. Nitin Bhandari to tell him the wrong picture was used. It is a small thing, but as a person who tabulates and collects data on very tall people and basketball players it is something that I wanted to point out.
So let's do a complete comparison of the three (currently) people named Mamadou N'Diaye, all of whom are from Senegal.
Mamadou N'Diaye #1
From the Wikipedia article on him we find out the following information…
Born on June 16, 1975 (so currently around 38 years old)
He played in college basketball at Auburn
He was drafted by the Denver Nuggets back in 2000 in the 1st round as the 26th pick
He played for 10 years from 2000-2010
He was a part of the following teams –
Toronto Raptors
Dallas Mavericks
Atlanta Hawks
Los Angeles Clippers
Currently: Assistant men's basketball coach at Coastal Carolina University for the 2013-2014 season
Other sources include the NBA Scouting Report and HoopsHype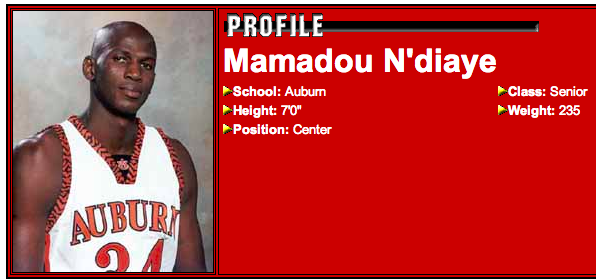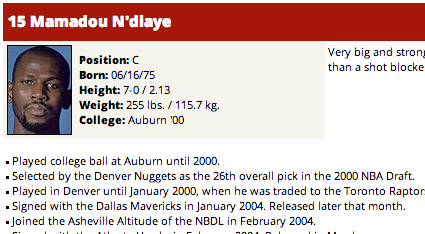 Mamadou N'Diaye #2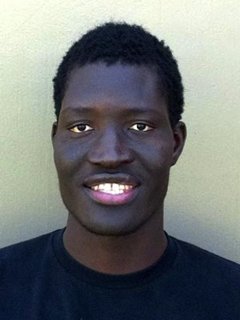 This is the kid that is probably going to get the most coverage in recent years. What makes him standout is his insane height, which most people are citing to be 7′ 5″. That would make him one of the tallest college basketball players in the entire country. His name has also been spelled as Mamadou Ndiaye. He was at least 18 years old as a High School Junior back in Jan of 2012. That would make him about 19-20 currently. His shoe size is 19½.
Back in Jan of 2012 it was reported that the teenager was just a high school junior. He got VISA to stay in the USA from Simi Valley Stoneridge Prep (based in California). He arrived in the US back in 2010. After he did a physical, it was found out that he has an a tumor on his pituitary gland causing excess GH release into his system. The MRI done on his brain revealed a golfball-sized tumor on Ndiaye's pituitary gland. The tumor was pressing up against Ndiaye's optic nerve.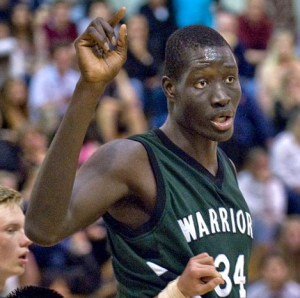 A lot of people are saying that this kid is going to be a player in the NBA but we here feel that the chances are extremely small.
Many pituitary giants who were young and playing in some D Level small college were written up by people who believed that they would become basketball legends. It is true that any young 7 footer who is playing basketball usually is written in the press as the next Kobe or Lebron like Thon Maker but the expectation is almost always too high for the young kids to live up to.
Not one has achieved that yet. Examples include…
The Chinese Sun Ming Ming
The UNC Asheville Kenny George
Satnam Singh Bhamara
The only exception we know is for Romanian Gheorghe Dumitru Mureșan who did have only a below average NBA Career.
As for who is really the tallest college player disputes, we realize that former Gonzaga Center Will Foster was also supposed to be 7′ 5″ although he might be closer to 7′ 4″ based on some websites and sources. There is also UK Paul Sturgess which seems to have moved on the the Harlem Globetrotters.
Mamadou N'Diaye #3
We only found out about this player also named Mamadou after looking on Wikipedia. It seems that currently he is a footballer aka soccer player playing for a team based in Portugal.