Successful Implantation of Entire 3D-Printed Skull Bone Due To Disorder Causing Increase In Skull Thickness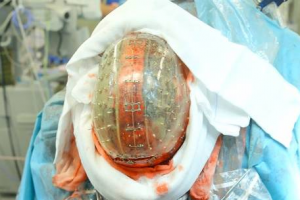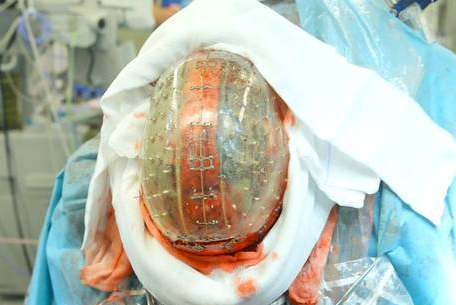 There are places on the internet which I read up on which reveal some of the most interesting medical and scientific innovations going on in our time. This recent story I heard shows that there are mays to increase our overall height than just alternations to our limbs.
I remember hearing stories many years ago about how young potential sumo wrestlers who might be just a few cms shorter than the height requirement cut-off point would go through type of scalp lifting/removal surgery to put some type of permanent, semi-hard implant into their scalp to give them that extra thickness so that they can qualify to train to become a future sumo wrestler. Back then I thought it was insane but now I sort of understand why people do that kind of thing.
This surgery obvious takes things to a completely different level. I've personally done research on skull and brain surgeries so I know about some of the most aggressive forms of head manipulation and cutting techniques that are out there. This one is absolutely fascinating.
The young woman who was just 22 years old seemed to have this disorder that causes the her skull bones to become thicker and thicker over time. This seems to be an example of appositional growth, or just calcium absorption and deposition on the inner side of the skull.
We are of course assuming that it was not the outside of the skull that was getting the extra layering, since it says that the increase in thickness of the skull bone started to pinch down on her optic nerve which was ready to completely blind her. The surgery was performed in this university called University Medical Centre Utrecht.
This story was huge just last month and was shared extensively over social media so some of you might have already heard about it. The implant that was placed was a type of plastic cover. Obviously the medical issue of whether the plastic cover would be durable enough to last for over the patient's entire life was raised. Would she have to go back in 5, 10, 30 years to get it replaced? Maybe it is made from a biodegradable material so all that is needed is to cover the plastic with some calcium paste and let it solidify over time?
The sources I got the story from are from Wired.com in the article "Neurosurgeons successfully implant 3D printed skull" & Policymic.com "Neurosurgeons Have Successfully Implanted the First 3-D Printed Skull Into a Woman's Head"
---