Usually the email to the website gets just the exact same type of messages from the same type of people. Maybe 75% of the emails we get are people asking me to upload and give them for free the E-Book PDF for the GT4I, but I have felt after dealing with too many potential legal problems that uploading that book will do more harm than good in the long term.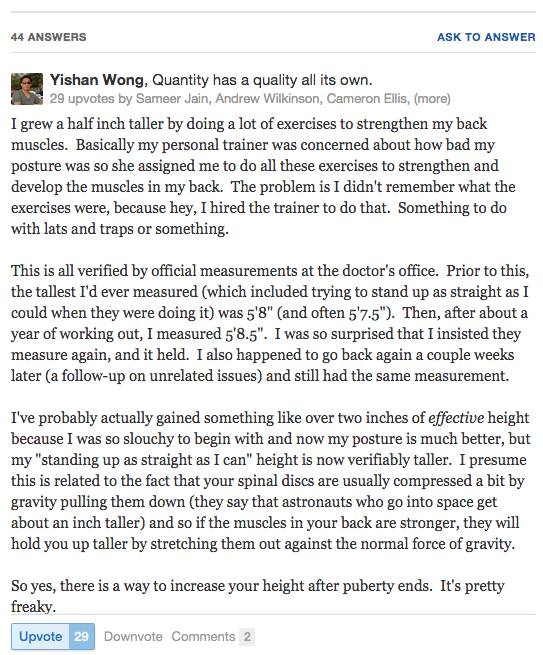 Sometimes something useful actually comes along, and that happened today. An email showed me this post written on Quora by a Yishan Wong reveals that a correction of posture through stretching and maybe also yoga has let the poster increase his height by half an inch, going from 5'8″ to 5'8.5″. The person who emailed me mentioned that this Yishan Wong guy is supposed to be the CEO of reddit, but I would not know about that too much. A Quick check does reveal that this Wong guy does have a Quora account and has a similar phrase used in his profile. A Google search on this guys's height comes up with 5′ 7.5″, which is close enough to his claims on the post about growing taller.
So in light of the new developments, it seem that even a multi-millionaire, super rich tech entrepreneur like Yishan Wong has himself noticed changes in his own height after puberty, through just the normal application of the principles of stretching and yoga.
Now, I personally don't think there is any need for a person as rich as the CEO of Reddit to ever need to lie to others about his changes in stature. So I am going to just trust in this guy's claims and say that somehow he increase his height by 1/2 an inch. If we go on the older claim that this guy was 5′ 7.5″ before, then his year of posture correction led to a full inch in height increase for him.
This type of change is NOT that uncommon. I remember years ago watching this televised golf tournament where the announcer noted that one of the professional golfers recently told in an television interview that he increased his height from 6′ 3″ to 6′ 4″ after spending 3 months doing stretching at a very intensive level. Why would anyone need to do that much stretching is beyond my comprehension but that professional golfer got results. Who was this golfer, or what is his name? I don't remember, but I do remember that segment extremely well in my mind.
The point is that there are too many documented cases of people who took action to change their posture (for cosmetic or health reasons) and started doing stretching as adults and noticed height changes which never went away.
The most obvious and simple way to increase height, and not just temporary height, is to stretch, and stretch a lot. Just this last month I was at a Goodwill and found this old guide to Yoga book and it was showing Indian Hindu yogis who were like 80 years old and had amazing flexibility doing postures that teenage ballerinas can't even do. In my opinion, stretching should be the first place we should start in our endeavors. and Join a yoga class.