An interesting article appeared in the online website The Daily UK today which made me think about the issue of height from a perspective which I never put any effort into before. I refer to the story of Lena Dunham standing next to Taylor Swift Here.
In certain parts of the internet, where men talk about the post-modern version of dating and relationships, a concept has come out called "The Red Pill", which promotes this idea that what men today think women want and what women really want are very different. These men believe that at the most basic, instinctual level, each heterosexual female wants a dominant, strong, masculine men as based on our savage animal origins.
A central public celebrity which is brought up often to portray the stereotypical image of what is wrong with the American and/or Westernized women of today is Lena Dunham.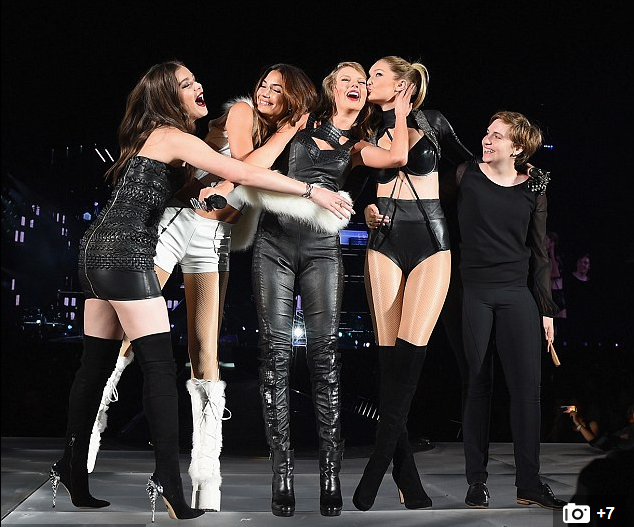 Lena Dunham has been vilified by many of these internet blogging men for being too self-accepting of the changes in the female figure. Weight has been traditional the issue/factor that the post-modern men and the post-modern female has the most contention over.
In this day and age where young girls are being constantly being exposed to images of strong powerful women who proclaim to be feminist, they are taught that it is okay to be overweight and not have the type of figure that men desire. Self-acceptance and being fully comfortable with one's body is very important. In retaliation, the young heterosexual males find these type of women who prefer to stay "overweight" or "full-figured" difficult to find a relationship with stating that they want the old more traditional feminine type of women, which is obviously just a glorified fantasy of something which never really existed. .
Anger, Spite, and Venom has been spewed on both sides, sometimes going as far as threats of sexual assault and bodily harm. Of course, anyone can be sort of a problem as long as they hide behind a screen and stay in anonymity. A sense of self-entitled runs high on both sides.
However, now the issue of height has been brought up. This is where things get interesting. Lena Dunham has been branded a feminism of this modern age, which she seems to be comfortable with that label. When it comes to weight, she has almost no problems. She had taken pictures of herself naked squatting down holding a piece of cake before. She was being overly expressive in showing of the excess of her body to the world.
This recent story that has appeared suggests that she has to content with the other anthropometric measurement which is making her realize that maybe this whole movement of body acceptance is a little harder than believed.
Remember the basic tenet of trying to compare weight and height.
Weight is something you can change with a little bit of effort, work and discipline
Height is something that is almost impossible to change
What my point is that when people like Lena Dunham and other feminists are talking about weight issues, and body acceptance, they are focusing on the wrong thing.
There is no need to argue for or against any topic dealing with weight, because weight can be changed and molded to whatever level we desire. 
It is height that is what most important. Your level of stature is what is most important, which is what someone like Lena Dunham realizes she will always be inferior to. With her brand of feminism, she chooses to not wear high heeled shoes, which just makes her look even shorter to her female counterparts, who are trying to accentuate their "tallness".
It is not the fat-shaming guy online that Lena has to content with (since she can easily dismiss those guy as losers) but another female, who happened to be taller than her, who chooses to dress in a classy way, with her tall female friends.
Suddenly you are put on the spot and realize just how "different" you look compared to the others, your own peers,, who you thought before was at the same level as you, only to see from a more objective point of view that they are much higher than you, literally. The other thing that you realize is that there is nothing that you can do about this factor, unlike weight which you can work on.
What do you do when you realize that you have been fighting the easy fight but have always shied away from the hard fight?
To gain acceptance of weight is easy.
To gain acceptance of height is near impossible.
If this girl was to really want body acceptance, she should have focused on height first and foremost and not even consider dealing with the issue of weight. I find it tragic that many modern feminists seem to be putting too much energy and focusing on the wrong thing in life. They should instead be working towards women and men finding body acceptance over their height, not weight.