I found an interesting observation while evaluating my finger progress.  I realize that a lot of this may be confusing to understand as I'm not explaining it very well.  But the core idea is that when clamping you tend to clamp the same way every time and that may be supoptimal to growth.  That may foster angular growth which may slow the overall longitudinal bone growth process so if I find a way to balance the clamping I can grow straighter/faster.  I'm also trying this on the bigger bones in the legs and arms too.  It's just a lot easier to monitor progress in the fingers and I don't have to worry about clamping force being a limiting factor.  The entirety of my body can generate enough force to clamp the finger.
If you don't understand don't worry about it.  I'm just letting you that I had a methodology epiphony and am still working on finding a way to grow taller.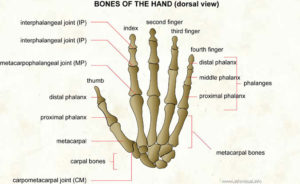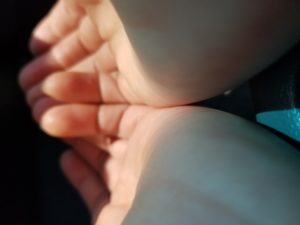 You can see that the right pinky finger is slightly crooked.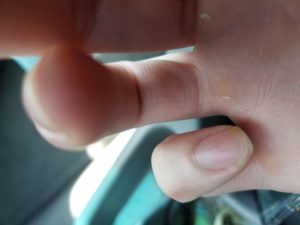 You can see that the pinky is crooked in solitude as well.  This is likely due to the fact that the way I've been clamping has resulted in the bone tilting in a certain direction.  If only one side of the bone has been growing that won't result in as much longitudinal growth as could be as it will be weighed down by the shorter side.  Naturally you tend to clamp the same way every time so I'm adjusting it to try to see if I can fix the angular growth.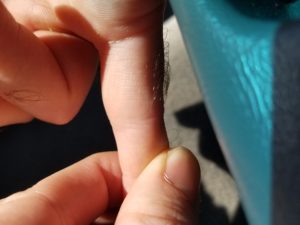 So for instance rather than clamping like this.  I'm going to be feeling what parts of the bone are underclamped and try to focus on clamping at that angle.  Underclamped regions of bone don't feel as thick and tend to feel to smoother than the other regions of bone.  For instance like: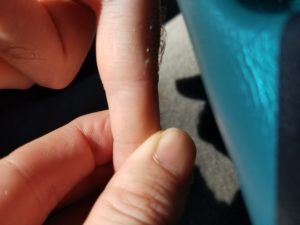 I'm clamping the right hand pinky phalanges on the epiphysis of the distal phalange on the inner side but the middle phalange on the outer side this could result in crooked growth.  For the lower areas it's inner medial/outer proximal and inner proximal/outer metarcapal.  It wasn't intentional but I tended to clamp the same style every time.  Actually when I was clamping my thumb I was clamping around the proximal phalanx on both sides and I do not see signs of curved growth but I will try clamping more on the distal phalanx to see if that can inspire more growth
I realize this may be hard to understand but I'd rather focus on doing it rather than trying to draw some diagrams.  It's possible that I will go back in the future.  So now what I'm going to do is invert it.  Clamp the middle phalange on the inner side and the proximal phalange on the outer side.  It'll be very difficult to do this on the proximal/metacarpal intersection this way due to the web intersection.
If inbalanced growth is an issue and this new hand clamping strategy corrects it then this will be the LSJL proof I've been looking for as angular growth can severely reduce overall growth.  If only one side of the bone is growing you're going to get angular changes but not much longitudinal bone growth until both are growing so if I manage to correct this it will be a huge improvement.
Whether you be a skeptic or a believer regardless I'm going to try to change my clamping technique and I'll either have strong evidence of LSJL or not but adjusting clamping this way already feels different as one part of the epiphysis feels a lot more underdeveloped than the other.