In a recent previous post I had written about the possibility of increasing one's height and to grow taller using a type of non-invasive spinal or vertebral decompression therapy. The post was "Increase Height And Grow Taller Through Non Surgical Spinal Decompression Using Spinal Decompression Therapy". The therapy involved using a machine to pull in two opposite direction at the person's upper torso and their hip area while the person was lying down horizontally. As a followup to that post, I would look at the different types of devices and equipment that I have found which can be used to achieve this type of height increase, since I had stated that there has been some evidence that the spinal decompression idea is effective.
Analysis & Interpretation:
The types of traction devices I've found from say Amazon seem to show that the devices don't really do much for bone. The device seems to be used mainly for massaging and stretching out muscles which would mean that the bones don't get much realignment, which is where the real height increase would come from. There is two types of traction devices, one for the cervical or neck region and the other for the lower back. From a quick search it would seem that the devices that is sold more are the neck traction devices. This might mean that the height increase may be only possible if the curvature of the back is coming from the top vertebrate portion. As for it's effectiveness, I would say that one can only see any real height increase if the devices can realign bone. The flat horizontal tables which allow for torso stretching would have the best chance to work.
---
From the Amazon website HERE we find a few types of traction devices being sold,
1. NEW Model Comfortract Home Cervical Traction Unit 
by LGMedSupply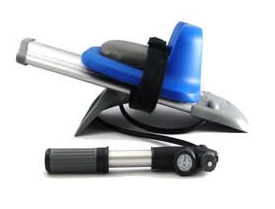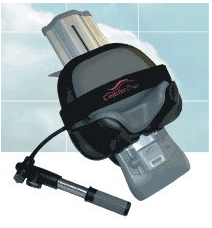 The ComforTrac Cervical Traction Device is the best traction unit currently available on the market!Therapists have overwhelmingly selected the ComforTrac home traction devices over any other device on the market. The ComforTrac Cervical Traction Device is designed to offer treatment and management of acute and chronic pain. Revolutionary neck wedges provide optimal suboccipital contact for patient comfort, thus eliminating the compression of the TMJ. ComforTrac is far superior to over-the door traction methods.
2. Instapark® CNT-C Cervical Neck Traction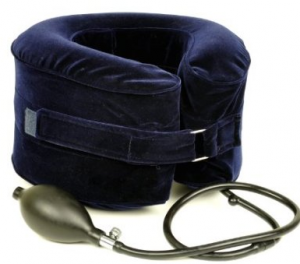 Description: * This Soft Air-pressure Neck Traction is very comfortable and easy to use for Pain Relief. It elongates neck muscles and separates cervical vertebrae, often resulting in rapid and prolonged relief from the soreness and irritation that accompanies cervical problems. * Gentle, intermittant traction exercises the neck muscles increasing circulation. * Firm, static traction lowers the pressure between vertebrae, freeing pinched nerves and easing herniated discs. * It improves blood supply to neck muscles,tendons, and ligaments. * Three layers Prevent, control and diminish painful neck and shoulder aches and pains with this comfortable, inflatable neck traction therapy. * This Cervical Traction is designed to maintain the natural curve and alignment of the neck for your health. * During traction therapy it gently elongates neck muscles and separates cervical vertebrae, often resulting in rapid and prolonged relief from the soreness and irritation that accompanies cervical problems. * Easy to use, comfortable and non-threatening.
3. Pronex Pneumatic Cervical Traction Device by RS Medical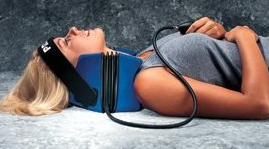 Pronex® Pneumaticl Cervical Traction Device Large Maintains the natural curve and alignment of the neck Easy to use, comfortable and non-threatening Reduces the need for costly pain medication
---
From RehabOutlet.com HERE…
1. Cervical Traction/ Neck Traction (Saunders Cervical Hometrac)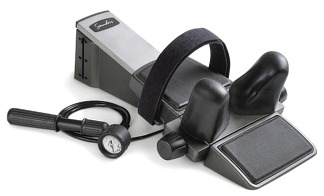 New Innovative Design
Built-in angle adjustment
Enhanced patient comfort features that include softer, more comfortable head strap and head pad
Attractive carrying case included
No assembly required
2. Supine C-Trax™ Cervical Traction Device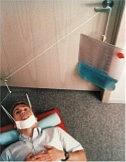 The innovative Supine C-Trax™ is a physical therapist-designed cervical traction system for optimal supine positioning and comfortable intermittent traction force. Using any door frame, the Supine C-Trax™ is quickly and easily set up; positioning into cervical flexion or extension is also as effortless. Furthermore, the one-of-a-kind intermittent traction attachment allows the clinician a choice of intermittent or static distraction. To securely hold the cervical halter, the uniquely designed spreader bar eliminates the common problem of slippage. Also standard with the Supine C-Trax™ is a 20lb (9kg) water weight bag. Can help alleviate Neck Pain
3. Saunders Lumbar Hometrac Traction
Saunders Lumbar Traction Provides High-Quality Treatment That Replicates Clinical Traction!
The patient is held secure by comfortable thoracic and pelvic belts. Most users can position themselves without help.
Patented pump incorporates an easy "click into place" mechanism for pumping, sustaining, and releasing the traction—it's easy to use and eliminates air leaks.
Gauge is calibrated in lbs/kgs to provide feedback and promote consistency in treatment.