Me: When I was on the All About Height Board from the Network54 forums, I found that the posters were talking about this Doctor from India, the New Delhi area named Dr. Bagga who seems to claim that he has managed to develop and create a type of herbal formula system which can help at least kids grow taller.
The website for Dr. Bagga is called HerboHeight.com. Although the main page is up, most of the links are dead, probably because the site was created more than 10 years ago. There is a discussion on this guy on the website ABCHomeopathy.com. the sad fact is that this guy is only briefly mentioned and the post titled "Increase Your Height" has over 1000 replies and posts, with many people wanting to grow taller. They also talk about him on the New Height Increase Message Boards on Network54. This post was made in 2005 and the poster says that the therapy did not increase his height at all. From this link source HERE, I found this Dr.'s Contact Information. I would assume this is really old information so his person's office might not be there anymore.
Herbo Height Therapy
Clinic of Dr. O.P. Bagga providing herbal treatment for increasing height. Claims effectiveness even after 35 years age. 
Address: Bazar Lal Kuan ( Opp. Koocha Pandit – 1st Floor ) Delhi – 110006. Phone : +91 – 11 – 23262426. Email:drbagga@herboheight.com
http://www.herboheight.com
[Note: Like I have said always with these products, there is no way to tell if the height increase that comes after taking such supplement or doing the technique was because of the actual product or from actual natural height growth.]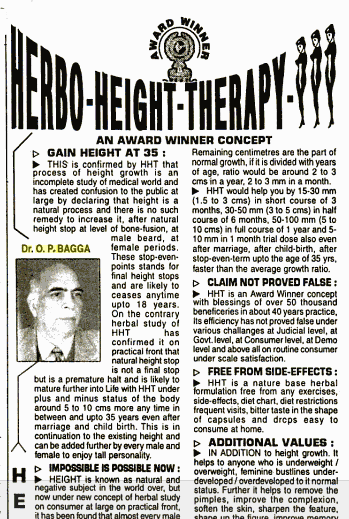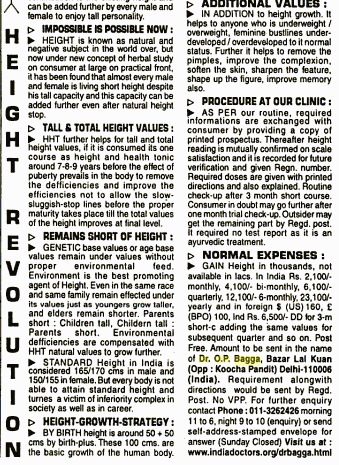 In my searching, I actually found a clipping in an old magazine on this Dr. Bagga's Herbo Height increease therapy. The clippings are on the left. They are taken from Google Documents source link HERE  which is the April 2002 edition of magazine "Competition Science Vision" pg. 155.
A thing to note is that I don't have much hope for using this therapy to help adults gain the increased height they want, but this therapy might be useful in giving us another clue in the puzzle on putting everything together.
When I googled the name "dr. o.p. bagga" into google what I found was that there was a few forum discussions on the possibility of his therapy working.
The first thing I notice is that this advertisment section is placed in many of the old magazines. it was in many of the monthly editions of the Competition Science Vision magazine, from 2001 and 2002, to even 2005. I think at this point, we can mostly conclude that this "Dr." was running a scam since if he has to take out advertisement in a children's or teenager's magazine, they are really just selling something not credible.
Me: The Last resource link I wanted to cite was from the All ABout Height Boards HERE. One of the poster writes..
da hope
(no login)
151.20.50.132

| | |
| --- | --- |
| about indian method | July 15 2001, 10:36 PM  |

ent help? You can't be sure.The second product I ordered was from a doctor in India. http://www.indiadoctors.org/drbagga.html.

I ordered a One year supply, which cost me about $800 Canadian dollars.

I used it after the zenith grow system, I still wore the insoles, and I grew 3.5cm in two months of Dr. Bagga's formula.

I am still using his formula, because I purchased a one-year supply. His formula are composed of herbal capsules, and drops(tincture).

He claims to have helped over 50,000 people increase their height as you will see on his web-site.

His formula is for REAL. I have spoken to a few other people who have actually increased their height also with his formula.

One girl from India took his formula for 3 years straight and she only gained one inch in the first year of use, and she didn't have any more increase in height for the second and third year of using the product.

So, I would advise not to purchase any more than a one-year supply.

The maximum you will grow will most likely be with a one-year of his supply.

As you will see on his website; sometimes this site does not work well.

But, he claims his formula works as follows: In 3 months you would gain(1.5-3cms)/In 6 months you would gain(3-5cms)/ In One full year you would gain (5-10 cms) in height.

But, he said results vary, some people react more quickly to his therapy than others. For me it worked pretty fast.

He said some people do gain 5cm within 3 months. I am currently still using this treatment.

"It differs from person to person in accordance with their gene and genetic, race and blood, health and height, atmosphere and environment, food habits and living styles, mental strain and stress, unnatural habits and body abuses are various factors responsible for height growth of the body.

Age is not the only criteria, it is one of the criteria for improving the height. This is its limitation." -(Dr.Bagga)

What exactly did I receive with a one year supply of Dr. Bagga's Formula?

I received a set of Master Dose capsules, Regular Dosage Capsules and 12 bottles of liquid(phials).

The Master Dose capsules are different in colour, I received 4 of M-1, 4 of M-2, and 4 of M-3capsules.

The master dose is to be taken once per month
starting with M-1. He advises taking it with fresh water before going to bed, at least half an hour after dinner.

These master doses are to be repeated every month (every 30 days).

The regular dosage capsules are red and yellow(cream) in colour.

You have to take the regular doses twice a day, morning and night with the liquid mixed with water.

He said to mix 8-10 drops in water. He sends droppers for you to mix it. If you don't like the taste, just add more water.

He said if you are taking other medication or you are on a special diet to allow a 1-2 hour gap before and after the dose.

He said that to get his formula approved by the medical boards in India he took seven people randomly in the age group of 25-35 years giving them his dosages and each one of them grew at least two inches in a year.

His maximum growth record is 10 cms(4 inches). It took him about 9 years to get his herbo-height-therapy approved by the medical boards in India. I have asked for his ingredients for his formula, but he has not replied back as yet, he is a very busy man.

Comments**: You have to send him a money order to the address on the website;( Payable to Dr. O.P. Bagga )

It will take at least a month for your money order to clear banks in India.

Probably faster if I would have sent the money order in Indian Rupees, instead of U.S. funds.

It took me about 2 months to receive my one-year
supply of his herbo-height-therapy, and I sent him the money order by priority mail.

You could try a wire transfer to wire money in their
account. But, getting hold of them by e-mail takes very long if you do ever get hold of them.

I was very skeptical of this Doctor at first
because it took so long for the capsules to arrive, and it's so hard to get in touch with him.

But, he is a registered doctor in India and he
does have a clinic, and you can't just write a money order payable to a DOCTOR unless he shows his qualifications to the bank. (I'm only saying this because a lot of people do not believe in his therapy)

But, his therapy did work for me, and he will DELIVER no matter how long he takes.

People are giving you false information on height
forums, they determine everything is a scam before actually trying it.

The e-mail address for Dr.Bagga inquiries is :
tims@mantraonline.com) But, don't sit back and expect a quick reply or any reply at all, he's very busy.

He gets way too many e-mails a day, and he can't afford to spend time e-mailing people back.

It took a few months before he had time to reply back to my e-mail.

Remember that India is the second most populated country in the world, and it also has the most doctor's in the world.

So, I would suggest you just send the money order with a note of the supply you want, and the address you want it mailed to.

He does not ship by express post. Even though they take very long, you will eventually get your order.

He says after money order clears the bank, it usually takes about 15 days to arrive.

He packages the capsules in plastic, wrapped in cotton very discreetly, and it should arrive with no problems.

If you understand their Indian language you
could call their phone # which is (91-11-3262426), the phone # is available for question in morning(11 to 6), night(9-10) Closed Sundays, which it says on his website.

I called the number, but, I couldn't understand their language, so I just mailed the money order for the one-year supply and told him where to mail it.

A lot of people I have spoken to who have tried these two products did not do any stretching exercises, but they said maybe they would have grown more if they stretched.

So, if you are already on some sort of
stretching program, don't just stop, these products are designed to work without stretching, but if you have the extra time during the day to stretch, continue your program.

It may or may not speed up the growth process. Dr. Bagga advises no exercise, especially no weight-lifting on above shoulder.

He said it does not need exercise whatsoever.

Basically, what I am saying with doctor Bagga's formula, if you want a guaranteed, at least two inches, the exception being that girl from India, it would cost you about $500U.S.

You just have to wait a year to see results depending on your body and genes.

If you live outside of India I believe you will grow faster because he says atmosphere and environment are factors.

India is does not exactly have the cleanest atmosphere and environment.

Everything he sent me was very professional
(Two small instruction booklets in english and in indian language).

If you would like this product faster, I suggest you check your banks out in your country to see if they can give you a Money Order in Indian Rupees.

Some countries have places that will change your money right away into any currency you want.

Just send it by priority mail, so you can make sure it gets there(India), and he signs for it.

I think his herbo therapy ingredients is copyright information, so I don't think I can post

This message has been edited by Abtgrow from IP address 192.169.41.34 on Jul 16, 2001 10:19 AM


Heng
(no login)
192.169.41.43

| | |
| --- | --- |
| Thanx tha hope | July 16 2001, 10:00 AM  |

Thanx for posting messages and give us more

choices on products that work.As for the Indian method, I think it do works as if

I were a supplier/seller and my products dont work or have side effects , I would not have put my photo on the web especially when I am a doctor, a professional one somemore.

That happens with most of the heightening websites.
No photos of their managing director, status, etc.

So maybe after the Zenith grow, I might try this
Indian herbs.

The only thing I am worrying is the ingredients
in the products. I am afraid of side effects as
I am from Singapore. My body condition might be
different from that of India.

This oral thing has to consider very carefully

This message has been edited by Abtgrow from IP address 192.169.41.34 on Jul 16, 2001 10:24 AM


Orench 
(Login orench_juce)
203.106.8.194

| | |
| --- | --- |
| To tha Hope – Thanks for the info. | July 16 2001, 12:34 PM  |

Yes, I was reading about the Dr. O.P Bragga just yesterday. And I was about to post some questions related to his website on the forum. Thanks so much for providing in elaborate detail, the information related to his site.So, you have been using his products. Good to hear and see that at least, one product bears fruit at the moment. Am still waiting for Heng's testimony. Hopefully (keeping fingers crossed) she has some positive remarks for it.

The procedure for sending the money and receiving the product takes a long time. Wonder how to speed up the process. Another thing is that, is it safe to send money? The product is guaranteed to be delivered right?
Thanks.




jigga
(no login)
205.188.199.183

| | |
| --- | --- |
| Ingredients | July 16 2001, 2:56 PM  |

What are the ingredients for the "indian" capsules, can you email that info to someone>> da hope.




Heng
(Login Abtgrow)
Forum Owner
192.169.41.39

| | |
| --- | --- |
| Please help thanx | July 16 2001, 6:21 PM  |

Please kindly post message about the indian herbs
in category
http://www.indiadoctors.org/drbagga.htmlThanks




tha hope
(no login)
151.20.51.230

| | |
| --- | --- |
| heya | July 16 2001, 7:31 PM  |

doc.Bagga don't give informations about the ingredients cuz if he'll give it people will copy his therapy immediately!

The message i've posted it's another part of the secret document by TK Persaud the canadian pharmacist who grew with this product.I don't have fear of the side effects cuz the therapy it's approved by the indian medical boards..i wana order soon!!

the therapy arrive to you with some instructions on how use the therapy correctly,written by Bagga…so
we must try this thing!!!