As I was going through the forums on the website TheTallestMan.com today I came across a post which linked to a youtube video which shows a young male who seems to be suffering from the same type of medical condition or at least has the same medical traits as the late Matt Mcgrory and Zech Devits, which I had discussed before in posts. The post thread is entitled "Rare Syndrome"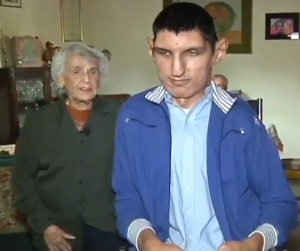 The video is in spanish but a poster named Roger was kind enough to translate the spanish in english which I will post below…
yes, looks like the "McGrory" gigantism, or a new variant of it…
The video is in spanish. Translation:
A strange physical malformation caused that the twin brothers Rodrigo and Javier, in Guatemala, were born with severe physical problems, which derived into an uncontrollable growth of their whole bodies. The twins confronted a great number of diseases, but Rodrigo was born with a very big rib cage, so that he died when he was 1 and half year old, meanwhile Javier continued fighting for his life.

Javier's Mother: …because they were born with an unknown syndrome…

Months later his twin brother died, Javier started to develop a blend of different syndromes that caused him to continue growing in an excessive manner, while his bones started to twist due to his incredible size.

Javier's father:… "there wasn't any other case like this in the whole world. There were 10 similar cases, but weren't exactly the same, so that made more difficult the situation."

It was thought that Javier was going to die, like his brother. He also showed hydrocephaly, osteoporosis, and problems to speak, but miraculously he got rid of die, and now he tries to have the most normal life as posible.

Javier: well, here at home, I do set and clear the table, I fold clothes and tidy them up, I help mum a lot, I take care of my grandma…"

Javier is 2m 35cm tall, so he needs an adapted bed, and a northamerican doctor designed a wheelchair for him to be able to move more freely.

Javier's Grandmother: .. really Javier doesn't cause any problem to me, he is very understanding and very smart, and we take care each other."
Analysis & Interpretation
What we see in this case is a young male in a wheelchair who has a very, VERY deep voice due to the cartilage in his larynx and trachea (windpipe and voicebox) both being enlarged. His ears are abnormally large in proportion to his head, which is abnormally large in proportion to the width of torso or body. These are both symptoms of having the chondrocytes in the cartilage enlarging.
His hands are very large in comparison as well. HIs grandmother states that he is very smart and this seems to be similar to Zech Devits' case where the medical doctors examining him noticed that his intelligence was not decreased. In all three giantism cases, they all wore glasses which suggest that maybe the bones around the ocular cavity were also expanded and pushing against the optical nerve decreasing the vision's ability.
It is interesting to note that Javier's twin brother who died had an enlarged ribcage which would indicate that the twin also had chondrocyte enlargement in development. The osteoporosis that Javier had is similar to Devits' bone maturity development, who started suffering from spinal disk collapse early in life.
A Second video of this Guatemalan giant is found from this link HERE which is a short video on him from the Spanish Media Television channel Telemundo.
From my own limited Spanish it seems that this young man is from the country of Guatemala and is around 20 years old. His height is definitely under dispute since the reported height by the journalists would convert to make him 7′ 8.5″, which would be one of the tallest in the world.
I have embedded the link to the Youtube video below. The link to Youtube is HERE
---