I have looked at the statistics on this website and the date at which this website was created seemed to have been 1 years ago.
The very first post ever written entitled "Why This?" was written and posted on June 27th. The hosting server seems to show that this website was actually created in July 22 of 2012 but the point is that it has been a very interesting 1 year of dedicated research I have put in towards this goal.
I wanted to give the regular readers a look at the vital statistics and numbers of how this website has been doing so far over this 1 entire year. (click the pic to get the larger size)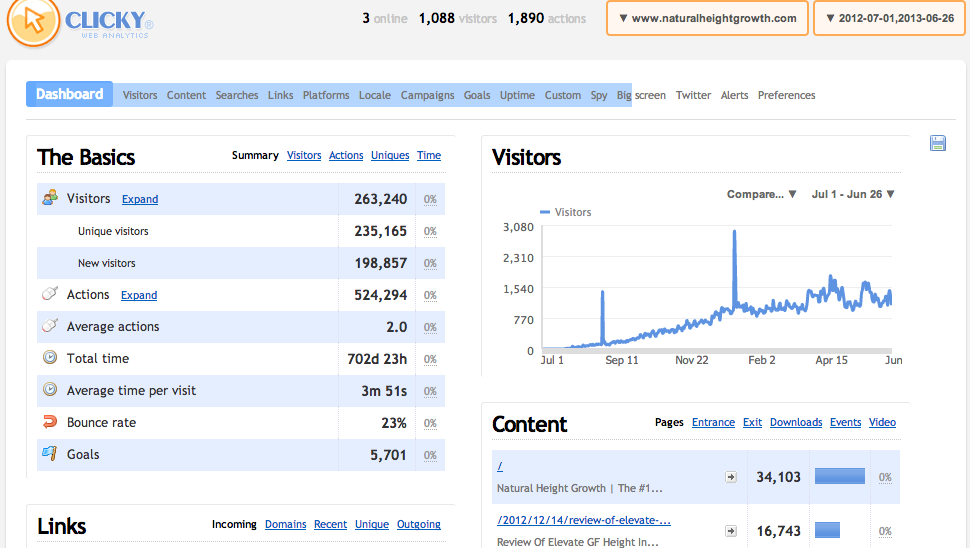 The tracking software that I use is called Clicky, not Google Analytics. Google Analytics does not give the real-time numbers that Clicky can do. The numbers from the two sources are slightly off too.
The daily number of visitors is around 1000-1400 on average. There was two times when a story or post was picked up and taken virally so the website numbers spiked up. They were both about the former Tanya Angus who suffered an extremely back version of acromegaly which made her almost 7 feet tall. The traffic has grown steadily over time, but has sort of plateaued in the last 4 months around the 1000 total visitors/day mark.
There has been 961 posts written with another 26 posts that is in private waiting to be finished and published.
So far the Natural Height Growth Facebook Page has been "liked" 67 times.
The number of people on the email mailing list which I use AWeber is around 334 People with another 36 people who decided to unsubscribe.
From using the podcast service Libsyn, I have produce only 10 podcast episodes with a total of 1647 total downloads of the episodes. The most listened to episodes were probably on Episode #5 with Hakker.
I created the website www.NaturalHeightGrowthForum.com months ago but decided not to fully implement all of the forum features since I did not want to shoulder the responsibility of also running a forum website. It was taken down now and no longer active.
There has been a few posts that has been much bigger than others, some which showed that researchers and scientists are working on the subject of height research to see which genes, mRNA, and signaling pathways affect the overall growth and height in humans.
Refer to post
Hundreds Of Variants Clustered In Genomic Loci And Biological Pathways Affect Human Height (BREAKTHROUGH)
Important Posts
This recent post I wrote showed that scientists have been successful in growing completely new growth plates, with the bones and cartilage with the right type of cartilage sections needed to make volumetric expansion of bone tissue possible.
My Plans For The Upcoming Year
I feel like the posts are getting stronger, and the amount of knowledge on how the body really works is increasing. Some posts I have written like…
might be a little too technical for most researchers who just want to know what the steps are. The truth is that the website will be going much deeper into the science, molecular biology, and genetics in the future because I realize that we have to. Most of the easy stuff has already been thought of and tried. It doesn't take a genius to see that orally ingesting letrozole might delay growth plate closure.
So this website is only going to get more technical as I shift more towards genetics and looking at the effect mRNA and the microRNA has towards mitosis of progenitor stem cells.
Ideas I would go deeper into
I wanted to look more at ways to de-ossify the bones and remove the calcium crystals that make bone tissue so tough to bend or pull. The idea of using vinegar to make bones more rubberized is very interesting. Refer to post "Using Acids To Induce Reverse Ossification For Calcium Mineral Absorption"
Current methods on how physicians and surgeons do surgery, specifically look at noninvasive approaches, like an incredible new technique known as magnetic resonance (MR)-guided high-intensity focused ultrasound (tcMRgHIFU). Refer to study "High-intensity focused ultrasound for noninvasive functional neurosurgery."
Stem Cell Research – This one area is probably the most promising of all the possible paths to take. I wrote about the idea of using stem cells to grow taller. The possible is actually very high that something will be found in less than 20 years.
The best combination of growth factor mixture that would lead to the highest chondrogenic potential in terms of differentiation and proliferation.