Have Bodybuilders Already Done All Our Research For Us?
This has been a really big issue for me for the longest time and I think I need to address a concern which maybe many of the intermediate height increase researchers might have been thinking about and worrying about for at least the last half decade.
Ever since the creation of the internet and the uploading of so many academic scientific studies to various databases to the internet, bodybuilders have been scouring the academic papers like PubMed.com and Google Scholar to find articles which have already done the tedious laboratory work to help give the bodybuilders new ideas.
When I start searching for the link between bone growth or cartilage regeneration with compounds I have never done research on or have never heard before like CJC-1295 and Isoparelin, what shows up in the Google search results are the bodybuilding forums, like AnabolicMinds.com, The Steroid Forums, SimplyShredded.com, MatterofSize.com, ProfessionalMuscle.com, SteroidWorld.com, and BodyBuilding.com. (Note: Yes, I am aware that the Matter of Size forum is not for bodybuilding but used for men hoping to increase their genitalia)
What shows up are threads written by some guy around the ages of 18-22 who wants to maybe get another growth spurt and the repliers calling him a "manlet" (I have no idea where this stupid term came from) and him being ostracized for such a crazy desire.
However, when there is a more technical response, the knowledge that the posters shows is extremely technical and high level. I am always very surprised and impressed at how much the other men have figured out and read, at least in terms of reading the Abstract on PubMed studies. These guys probably don't read the entire 20+ page PDF for a study unless it is extremely relevant and reveals new information but most likely glances and reads the Abstract. Well, that is what I do.
I knew that the bodybuilders have always been very knowledgeable on the limits of what science and technology has revealed. They really do keep up to date on the latest information and are at the forefront/leading edge on what is possible.
I have watched a few YouTube videos of Arnold Schwarzeneggeer (spel??) talking about his training and why he did certain weight lifting techniques when he was younger and his explanations reveal that Arnold was very knowledgeable on the physiology of the body. His understanding how the body reacts and changes from weight lifting and taking supplements is really at a high-level. Since he was the person who really brought bodybuilding in the mass media starting in the 70-80s, the bodybuilders after him probably took his lead and also educated themselves extensively on supplements, steroids, human physiology, anatomy, etc.
When I talk to my physical therapist or even the local gym trainer with maybe just a BS/MS from some state school in Kinesiology or Sports Medicine, they are really knowledgeable on the human body and can discuss even the most complicated aspects of human biology.
I was recently at the local supermarket leafing through a Men's Health Magazine and on one of the pages, there was an excerpt on research being done at some research lab in some university. I took a picture of the article and have put it below. It is about the Aromatase Inhibitors, and how they can prevent the testosterone from converting too quickly into estrogen.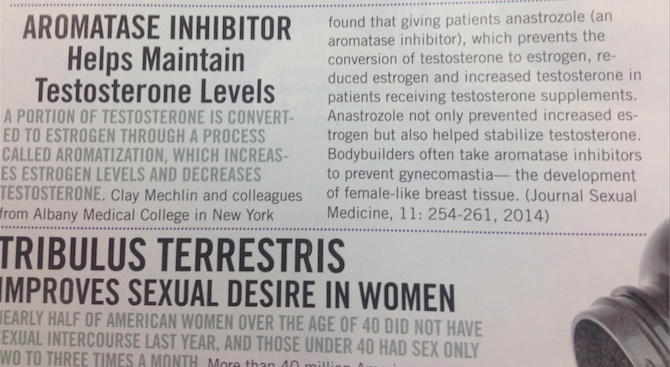 Anastrozole is mentioned and we all know that Hakker/Thomas and his forum reached the same conclusion more than 5 years ago. Since the internet is now at the fingertips of anyone and the PubMed database is free to access, anyone who wanted to do even a slight bit of research to maybe find a way to make themselves taller would have figured out the AI technique.
Every single serious height increase researcher have realized it from the last half decade. The GrowTallForum.com people all knew about it. In the 5th Podcast I did with Hakker, he revealed that he did give pills to forum members to try out. There were results, but the results were only for people with open growth plates. He revealed to me that one of the 4 pills he often gave in a set was Letrozole, the other really well known Aromatase Inhibitor.
The PubMed database is close to being completely mined out of any new or fresh ideas. Tyler already did all that work. In his old website HeightQuest.com he probably has listed maybe 80+ possible chemical compounds which have at least a small chance of increasing height at least a little bit. In terms of what is easily found on the internet from only looking at studies in university databases, we are almost at the final point.
The Brazilian researcher Mateus knew much more than me and he told me about a year ago that he would find a way to regrow the growth plates using all these studies. So far, he never came back or revealed anything. So my guess is, he didn't succeed. Who can blame him anyway, right?
Interestingly, in the 2nd Podcast Tyler revealed to me that he was also a former bodybuilder who mentioned a story on how the talk about Mariusz Pudzianowski being 6 feet tall was considered small in the World's Strongest Men competition. These anecdotal stories and similar personal life experiences in some many people who want to grow taller and actively do serious research suggests to me that probably hundreds, if not thousands of bodybuilders have already come before me and mined through all the studies looking for the same thing I am doing and Tyler has been doing.
So have those bodybuilders already done al of our research for us?
I am willing to bet that there has been at least a few crazy guys who were as obsessed with growing taller as me and Tyler and did the same type of research for years maybe. I know that the Joey or Tim guy who runs the AdultHeightIncrease.Blogspot.com website has been researching for a oral supplement which would work on adults for at least 12 years. He has been creating many different types of powder for people to take for years, doing his formulations.
The next questions are going to be the most important
So if these bodybuilders already did the research, did they find something?
Did they find the solution or an answer, our "Holy Grail"?
I am guessing they never found the "Holy Grail". If they did, they would have marketed it or promoted it and used that platform to make themselves a billionaire or even trillionaire. The financial rewards for such a solution would be immense, beyond anything the world would believe.
Plus, if any researcher in any public university lab in the world figured out the answer, they would have probably promoted it or created a company around the idea. The solution is just too attractive and seductive an idea, in my opinion.
There is the possibility that some research in a secret government or military lab or private company (think Google's Calico project which is trying to cure aging) which did figure it out, but they would not release that type of information out into the general public. Based on a few articles I've found, I am quite positive that the Chinese Military Hospitals have figured out a Limb Lengthening Alternative. Refer to the older posts China Military Hospital Research Clinics Have Already Engineered Functional Epiphyseal Growth Plates (Breakthrough) and China Is Most Likely Trying To Engineer Taller Humans Currently As Well As Geniuses (Important!). I remember reading this excerpt from a quite credible source about this South Korean male who went to some Chinese Hospital to get his height increased by a full 12 inches about a year ago but I can't find the source right now.
However, any government or military lab would NEVER reveal what they have found. (As an example, I know at least 1 MIT mathematician who about 15 years ago did secret contract work with the company BAE Systems who specializes in USA Navy Technology. That person even in 30 years will never be able to reveal the type of work they did without being prosecuted by the American government).
The nice thing about the government and the military keeping what they discover secret is that even if you are the 2nd organization, like a public fully transparent company, who discovers it, you can get the credit for it since the government or military can never reveal that they were the 1st people to figure out a new technological innovation.
So far, I have never been able to find in the Google Patent database many patents claimed by just the USA Government. Since the patent is not on the database, you can file for the right to be the originator of the idea, even though you were not the 1st.
Getting back to the original point before getting sidetracked and into a tangent…
Hundred of bodybuilders before me already did the research. I am almost 100% certain that they did not find the holy grail solution. If they did, they would have promoted it.
So that obvious next question is "What can we do if the bodybuilders already looked at everything like the steroids, supplements, stacking, growth hormones, etc.?"
What is our approach, if the bodybuilders already did maybe 98% of all of our research?
My guess is that the focus with the bodybuilders may have always been on hormones, HGH, steroids, and endocrinology.
My focus is on orthopedics, how the mechanism in the bones and cartilage work. My focus is looking at how the various external stimuli effect the structure of bones and cartilage. That is something which I don't believe the bodybuilders focus on. While they are focused on what type of chemical they can swallow or inject using a needle, they probably have not been considering other ideas, like using magnetic forces, dynamic electrical signals, or unique ultrasonic technologies and combining all of these biomedical techniques together. That is what I think my research i able to do, being able to really make a big contribution. That is something I don't think many people have done extensively. That is where I am differentiating myself from the bodybuilders who do research for the same end goal, which is to find a way to increase in height. They have their general approach, based on endocrinology. I have my approach, using tissue engineering, stem cells, orthopedics, and really new biomedical ideas which may not even be clinically available for decades to come.
NEWS: If you have read this far, I have some good news for the regulars and reader. I have recently found something which may be as close to a real solution as I have ever found. It seems to be a game changer.