So I'm still working on getting a hand x-ray.  I'm contacting facilities to see if they take walk-ins.  No replies so far. I also read you may be able to get an x-ray at the airport(but that was in context of a full body scan)?  I'm looking for alternative medicine facilities that do x-rays but I've read they need a doctors script too.  I don't really want to go do the Urgent Care but it looks like I may not have a choice.  If anyone has any experience let me know. Here's the last update.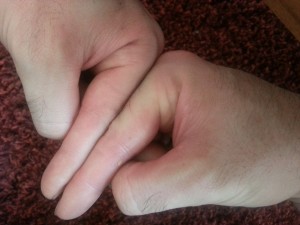 The right finger could be longer since last update but not sure.
Here's a thumb pic: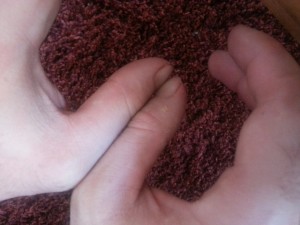 I've been clamping my left thumb but not my right and from this picture you can see the left thumb is slightly but significantly longer.  The osteophytes are much less noticeable in my left thumb than my right index finger but they are there if I feel around the clamping region.
Interestingly, I clamp each of the three joints of the finger.
Here's an image of the finger bones: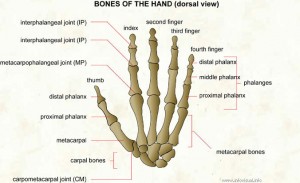 I clamp the two interphalangeal joints from side to side  but at the metacarpophalangeal joint I clamp from top to bottom.   The epiphysis near the MP on the index proximal phalanx of my right (clamped) finger is thicker than my left finger but not as enlarged as the epiphysis near the IPs of the distal and middle phalanx.  The IPs of the clamped joints are also rougher than the MP which is clamped overhead rather than side to side.  So some of the enhanced epiphyseal thickness may be due to LSJL growth stimulation and other effects may be due to irritation from the clamping surface on the joint.  If I can get an x-ray it will be interesting to compare the two IPs to the MPs.  For a period of time, I tried clamping the two IPs from top and bottom but didn't get noticeable results from that.  Top to bottom clamping may be more effective in the MP than the IPs due to differences in joint structure.  You can feel much more pressure generated by top to bottom clamping of the MP than you can the IPs.
As for leg clamping, I am increasing the duration and intensity of the clamping.  I may be getting taller but I cannot yet rule out placebo(like I have with my thumb and index finger which are too noticeable and significant to be placebo) or measurement error.  I grew about 1 1/2 inches in wingspan for sure but I don't have photographic evidence.  I'll have to keep monitoring there.  In a week if I don't have noticeable leg progress, I'll bite the bullet and go to urgent care to get the x-rays.