Below I will submit evidence of LSJL.  It is not perfect proof but with the resources available it is not possible to generate perfect proof.
However, I will submit the following facts as evidence that there is a very strong possibility that LSJL works.
The basis on whether this is proof of LSJL depends on the answers to the following questions:
What is the probability that every bone shaft on my left side of the body is longer than the right except for the one metacarpal which I performed LSJL?
What is the probability that my LSJL loaded finger is longer likely due to lengthening of the metacarpal when everything on my left side is longer(can provide additional evidence of my left side being longer if needed)?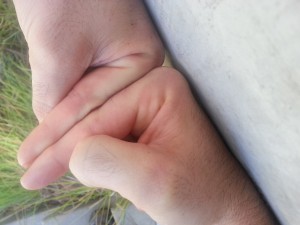 Is this not reasonable proof that LSJL works?
So the current hypothesis is that LSJL lengthened my right index finger metacarpal.  The right index finger metacarpal is about 1% longer than the left and since my left bones are almost universally longer than my right bones(at least for all the bones that I have identified) that probably means about a 2% growth(with 1% being a correction of the discrepency).  The remaining bones of the index finger may have grown as well but not beyond the initial discrepency.
Here are my two hand images.  If I could proof that the fourth and fifth metacarpals were longer on my left side on my right that would provide evidence that the fact the index finger metacarpal is longer on my right side is an outlier and is due to loading from LSJL.  The middle finger is not taking into account because it is close to where I loaded with LSJL so there might be some byproduct lengthening of the middle finger.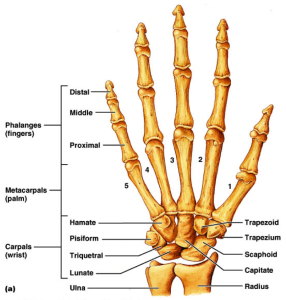 Here's a labeling of the bones of the hand.  It would be easy to measure if it was like but the bones are not that organized.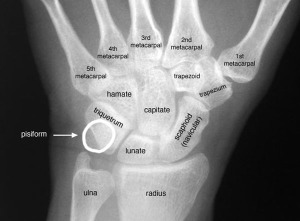 Here's a labeling of the bones on an actual skeleton.  You can see how the hamate mucks up with an accurate measurement.
From these images you can see how hard it is to get an accurate measurement of the 4th and 5th metacarpal.  The shaft of the fourth metacarpal is definitely longer on the left side and eyeballing the shaft of the the 5th metacarpal the left bone looks like a little bit longer.  In terms on the exact beginning and end of the bone it is hard to tell because of the hamate.
Here's the left and right index finger: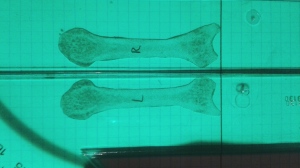 The shaft of the right bone looks longer in addition to the overall bone being longer.
I submit that the fact that the fourth and fifth metacarpal all have the left shaft as longer than the right like all the other bones I have compared with the exception of the right and left metacarpals of the index finger of LSJL induced lengthening.