Sometimes I don't pay enough attention to this project or the research. I leave for a while to live my life and focus on other areas of it. Then I find something, read something, that makes me remember the real reason why I ever first started this quest. My girlfriend left me, I was devastated, and I believed that one of the reasons she left me was because I felt I was not tall enough. She left me for a guy who was much taller than me. It hurt me at a level which I have never felt before, and I swore on my life that I would find a way to change the situation, not just for me, but for other guys in the world.
I remember once reading this controversial article from some internet website where the author wrote that men in today's world are no longer needed by women, since women can do almost everything better than men. The way the school system is setup reveals that academics rewards the students based on following orders and being disciplined, which has never been a strong point of young men. While men still need women for the act of reproduction, companionship, intimacy, and sex, women no longer need the skills and qualities within men for survival. They no longer as the males of their family to go out and hunt down a sabretooth tiger for the even meal. As a heterosexual male who have somewhat old-fashion conservative views, the article seemed to push at a pressure point within my psyche that made me feel insecure, sad, and a little bit angry.
It turns out that when the modern young adult female talks about the income inequality among the sexes today, the women are not comparing themselves to the bottom 80% of men in their society, but the top 20% of men. In every society, there is always a heriarchy of men, with some being of higher class, and most men being of the lower class. Throughout the history of the human race, within almost all tribes and groups, it would turn out that the majority of males would never get a chance to have sex, and find a sexual partner or mate in life. Historically, it was the top minority of men in society who get sexual access to the majority of females. Think of the harems of the Emperor of China or the Caliphate of the Ottoman Empire or the Persian Empire, which had up to thousands of young girls who were carefully protected from other men by the army of the male rulers. Being a human guy in this world, in any time frame, has always been hard. It is just that hundreds of years ago, being born as a female was also very hard, with the constant threat of kidnapping, assault, rape, and forced marriages. Now that the world has become more peaceful and most men in the developed world no longer view females as property, the females of our species don't feel that type of threat from male strangers that they were taught hundreds of years ago. The main point is, in this modern age, it is much harder to be a guy than a girl. When we really, objectively look at the overall condition of the human race, it has been the males who have suffered the most throughout history.
I refer to the readers this amazing book "Is there anything good about men? How Cultures Flourish by Exploiting Men" by the professor Roy F. Baumeister. This book will shake the very core belief system of most young men who were born and/or raised in one of the developed western nations. 
Of all the types of men who would most likely fail with females, I believe that it is men who are short who have it worst. The only exception may be being disabled, and that can be up for debate. The fact that short men are so disrespected and treated badly by society, and looked down upon by girls as unworthy of companionship shows that this type of discrimination is too pervasive in the minds of females. Being short is often the kiss of death.
The silent pain and suffering that this certain group of guys go through in life is felt. I am not God, and I am not a savior. I am trying my best to help a minority group of men in this world who are prevented from finding companionship because they did were not lucky at birth and ended up short. Being short and ending up a certain height is something that is almost completely out of our control. However, we should have that type of power and control, if we really wanted it.
This world is really hard for the short men. Maybe we can find some solution to make it so that their problem of short stature can be solved. It might not come about tomorrow, or even a year from now. However, I believe that one day we will find multiple solutions to solve the problem of being short.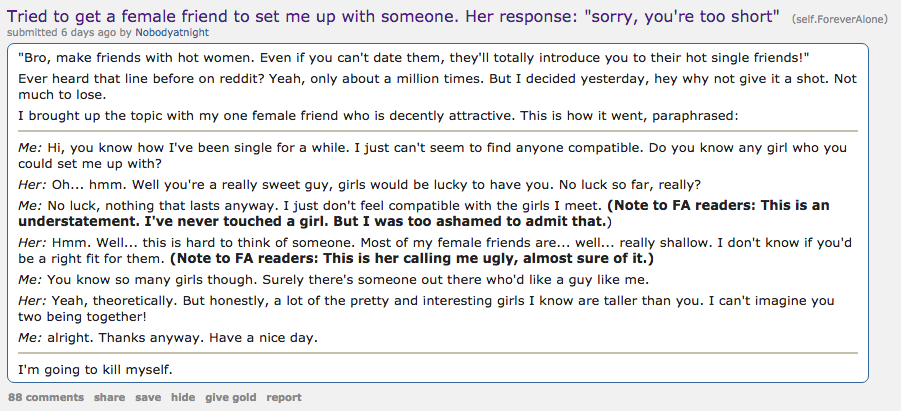 From Reddit/r/ForeverAlone – Tried to get a female friend to set me up with someone. Her response: "sorry, you're too short"  – (https://www.reddit.com/r/ForeverAlone/comments/3hu8el/tried_to_get_a_female_friend_to_set_me_up_with/)