Here's the link to the last LSJL update.
It seems like my feet have continued to grow from clamping.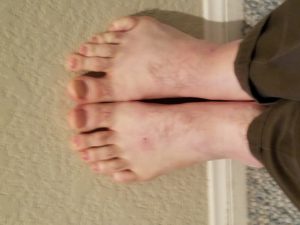 Actually there seems to be rather remarkable growth of the 2nd phalanx/phalange bone.  Right foot is loaded with LSJL and left foot is unloaded.  It's hard to tell if my big toe has grown anymore.  I've changed my clamping strategy rather than trying to specifically clamp the epiphysis of the bone.  I'm clamping a part of the bone close to the epiphysis where I can avoid slippage.  This change in clamping strategy may be the cause of the second phalanx growth too. By focusing more on the force rather than location I notice a rush of blood/fluid flow to regions when I release the clamp this may be a beneficial stimulus towards longitudinal bone growth.
My hands look like they're growing too but there's no need for pics all I need to is get an xray of one hand and compare them to the existing ones I have.  I may be growing in height again too but until it's more definitive it's better to focus on things that are easier to measure.