Me: As a continuation of the post I wrote before which showed how much an Internet Marketer makes selling E-Productes which promise height increase and to grow taller, I wanted to end the talk to show that even in internet boards and forums which use Black Hat SEO tricks and methods would not be willing to touch the height increase niche. This small niche that Tyler and me are in is one that is filled with scams, sales pages, and a web of backlinks and SEO to make people sign up for mailing lists, and buy 20 page E-Products.
This was a post I found from BlackHatWorld.Com, which is a board where Internet Marketers which purposely choose to use Black Hat SEO to increase in the google rankings. As you see not even these guys who intentionally are using dishonesty are not going to touch the height increase niche. Only two people replied back and they didn't like what the guy was doing because they realized this product he was selling would have a high refund rate. The product is from this website GrowTallerFormula.Com which I don't remember whether I ever reviewed or put on the scam section.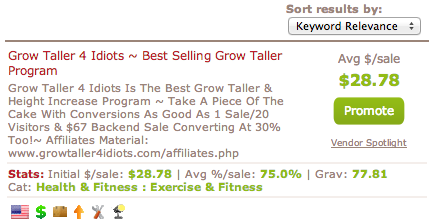 On a related note, there was another post I found from the google rankings which showed that on the WarriorForums.Com somebody wanted to sell the E-Book "Grow Taller 4 Idiots" because on the Clickbank Database this product has a VERY high "Gravity" number. The term gravity is used in the ClickBankf community to show how  "hot" is a product and how well it is sold. The higher the gravity value, the more likely people would want to be afiliate marketers and create new sales webpages to link to the product and sell it. I put a pick of a clipping of the screen which shows the gravity value of this product. The response from most of the repliers is that the product is a scam product which they didn't want to promote since it only causes the IM community look bad. One man even got extremely angry against a poster who used to sell the product and sort of cussed him out for being so sleazy in his Internet Marketing practices.
The poster goes by MovingAround. This is his message (link source HERE)
People like you truly disgust me.
You take advantage of people who have low-self esteem and rip them off their money. You see, there's a lot of money to be made out of people's low self-esteem, even if the product you are promoting is complete rubbish.
The epiphyseal plates fully fuse by about age 18-21 and the last bone to grow is the collarbone which ends its growth at age 25. No amount of snake oil will make you grow taller, unless in that book you have found the miracle to making your DNA revert the fusing process and start adding osseous tissue again to the ends of the vertical bones. Not even injecting growth hormone after the epiphyseal plates fuse will lead to an increase in stature (it will, instead, thicken the bones and increase their density). Human growth hormone is the only proven method to increase stature in adolescents (even in those who are not deficient in this hormone) and works best with the use of an anabolic steroid. This therapy can only be monitored under strict supervision of a specialist in the medical field as it can have side effects (increased risk of cancer and development of Type II diabetes). 
This product you have promoted is utter bullshit. I dare you or whoever came up with that product to show me one reputable doctor (preferably an endocrinologist who graduated from a top medical school, thank you) who says that you can still grow after your epiphyseal plates are fused. Come on, show me one.
This product is what's wrong with the IM niche. Utter fraudulent products making it through because there is no regulation. Of course, the product itself will play with words to make it sound like the initial claims stand up but that's how these sort of products make money. It will also talk about hanging oneself from space boots and the likes which leads to temporary increases in stature as the vertebrae are decompressed (you can also do this by sleeping 8 hours!!).
I was casually browsing the forum and not even planning to log in but the epic fraud of this product made me want to post this. It actually pains me to see how people who are short in stature waste away their money because when you target people's self-esteem, anything goes. You, as an IMer, have a responsibility to also check your product and see that you are not frauding, but hey, all hail the quick buck.
Disgusting.
Me: From BlackHatWorld.com link, the post is below…
---
infogeek  
Registered Member
Join Date: Jul 2010

Posts: 60

Reputation: 10

Thanks: 0

Thanked 3 Times in 3 Posts
 New product in grow taller niche – Grow Taller Formula is Live!
Hey Blackhatters,

Announcing my latest product "Grow Taller Formula™"!

What Is Grow Taller Formula™?

Grow Taller Formula™ is a digital program that shows you how to grow a few inches taller in just a few weeks.

The digital book consist of high quality content and illustrations written by professional writers in collaboration with experienced medical professionals that specialize in height increase products.

Grow Taller Formula™ is the complete solution that you can provide to the increasing number of people that are searching for ways to increase their current height.

You will earn a whopping commission of 75% per sale by just referring this book to those people that want to grow taller, while at the same time they will thank you for helping them to achieve their goal.

Why Does It Sell?

The demand for height growth products is currently at an all time high. There are numerous online retailers who sell height growth supplements, as well as programs at an alarming rate. However, the number of successful CB products in this niche are limited.

The sales copy has also been written by professionals and has been split tested / optimized for the highest conversions. (I'll be posting conversion screenshot data shortly.)

How Much Can I Make?

Grow Taller Formula™ Sells For $67

You get 75% of every sale!

There is also a one click upsell in place that you will get 75% of as well and that means that you will be making over $40 from just one sale…
Lot's more updates coming and products on the back-end that you will get commission for as well…

Site : http://www.growtallerformula.com

Affiliate Page: http://www.growtallerformula.com/aff.html

CB hoplink: http://YOURID.heightgrow.hop.clickbank.net

If you are looking for a MEGA niche to make some real money off promote Grow Taller Formula™ and I will help you make $$$'s!

Give this one a test campaign and see for yourself!

Feel free to hit me up via PM or email at customerservice@growtallerformula.com if you need anything at all!
Last edited by infogeek; 02-01-2012 at 02:09 PM.