Recently someone named Yashar from the country of Turkey contacted me through the website email naturalheightgrowth@gmail.com and inquired about whether the Grow Taller 4 Idiots book that is well marketed around the internet would really work in helping him become taller. I said that is probably wouldn't but the nice thing he did do was sent a copy of the book PDF to me to look at through email. I looked inside to see whether there was any changes and I noted that there seems to be a few more pages to this edition he gave me than the one that is listed in the Free Stuff and The Library sections.
It seems that this new edition of Grow Taller 4 Idiots is around 103 pages long, while the old copy one that I have uploaded for download is around 89 pages. I have took the liberty of clipping the table of contents page of both versions so that you can see the difference.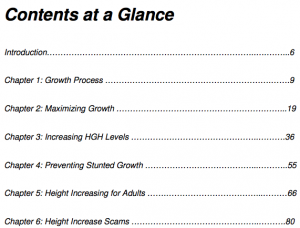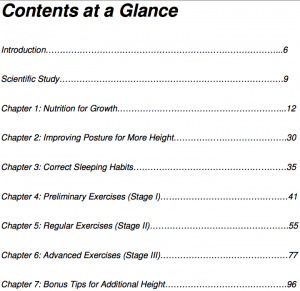 I guess this copy is the one that quite a few people have been emailing me about when they referring to something called "Exercise Routine Program" of the Grow Taller 4 Idiots book. For a long time I had no idea what they were talking about and only said "no" when they asked me whether I had it.
Quick Analysis
The obvious difference between the two PDFs is that this copy I've seen is longer, and the chapters have changed in name. I have gone gone through the 2nd version in detail but I would assume that the content from the old book was never removed, but pictures for the exercise routine was added in.
Now there is 3 chapters dedicated to exercises, which is definitely what so many people emailing me have been asking for. Well now I have what they want, so it will be free to download.
In terms of whether this new, improved version is going to help anyone actually grow taller, I highly doubt it. Just take a look at my recent review, which is more like a personal bashing, of the product which I have always claimed was a scam at "The Book Title For Grow Taller E Book "Grow Taller 4 Idiots" Directly Tells You It Is A Lie"
You can get the

old copy

of the Grow Taller 4 Idiots PDF book by clicking

HERE

.
You can get the

new, slightly longer copy of the Grow Taller 4 Idiots PDF book by  clicking HERE.
For all future visitors to the website, you will be able to download the PDF from the Free Stuff or The Library section.