Joint Distraction is similar to what I'm experimenting with via finger pulling.
Sustained clinical and structural benefit after joint distraction in the treatment of severe knee osteoarthritis.
"Knee joint distraction (KJD) provides clinical benefit and tissue structure modification at 1-year follow-up. The present study evaluates whether this benefit is preserved during the second year of follow-up.
Patients included in this study presented with end-stage knee OA and an indication for total knee replacement (TKR); they were less than 60 years old with a VAS pain ≥60 mm (n = 20). KJD was applied for 2 months (range 54-64 days) and clinical parameters assessed using the WOMAC questionnaire and VAS pain score. Changes in cartilage structure were measured using quantitative MRI, radiography, and biochemical analyses of collagen type II turnover (ELISA).
Average follow-up was 24 (range 23-25) months. Clinical improvement compared with baseline (BL) was observed at 2-year follow-up: WOMAC improved by 74% and VAS pain decreased by 61%  Cartilage thickness observed by MRI (2.35 mm (2.06-2.65) at BL) was significantly greater at 2-year follow-up (2.78 mm (2.50-3.09); P = 0.03). Radiographic minimum joint space width (JSW) (1.1 mm (0.5-1.7) at BL) was significantly increased at 2-year follow-up as well (1.7 mm (1.1-2.3); P = 0.03). The denuded area of subchondral bone visualized by MRI (22% (95%CI, 12.5-31.5) at BL) was significantly decreased at 2-year follow-up (8% (3.6-12.2)). The ratio of collagen type II synthesis over breakdown was increased at 2-year follow-up.
Clinical improvement by KJD treatment is sustained for at least 2 years. Cartilage repair is still present after 2 years (MRI) and the newly formed tissue continues to be mechanically resilient as shown by an increased JSW under weight-bearing conditions."
Below is the knee distraction method and a description: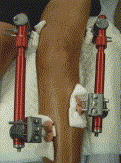 "The distraction method was applied. In short, an external fixation frame consisting of two monotubes with internal coil springs was placed, bridging the knee joint. Each monotube was fixed to two bone pins on each end and, in stages, distracted for 5 mm (confirmed by X-ray). After instructions about pin site care, daily exercise, and physical therapy, the patients were discharged from the hospital. Patients were allowed and encouraged to load the distracted joint with full weight-bearing capacity, supported with crutches. In case of superficial (skin) pin tract infections, treatment with oral antibiotics for 5–7 days was provided (Flucloxacillin). Every 2 weeks the patients returned to the hospital and the monotubes were temporarily removed. The knee was bent, for 3–4 h, in a continuous passive motion device, with pain at the pin sites determining the maximum degree of flexion; on average, 25° (15–80°) flexion and full extension was reached. The monotubes were replaced and sufficient distraction was confirmed by X-ray examination and adjusted if needed."
I think that this method of distraction is something that can be mimicked by something done manually.
"newly formed cartilaginous tissue; it might be, in part, fibrocartilaginous tissue."
This study Effects of non-surgical joint distraction in the treatment of severe knee osteoarthritis. has the analysis of non-surgical but I can't get the full study.
The idea of joint distraction in this case is not to stimulate the articular cartilage but to stimulate longitudinal bone growth.  There is no practical evidence that this may be the case that I am aware.  It is based on the observation that developing individuals have less pronounced epiphysis' and that therefore the epiphysis may be a constraining factor on growth.
The epiphysis may constrain growth in a number of ways for example the two epiphysis may be akin to "like" charges of a battery and repel each other inhibiting further growth.
This study here does not provide any evidence about what affect joint distraction will have on healthy adults but it does show that joint distraction does have physiological effects on bone, cartilage, and likely MSCs.  All ingredients for inducing longitudinal bone growth.