The NBA just today tweeted a picture of the high flying NBA star Aaron Gordon's shoes when they burst apart during a game. From my personal experiences, I immediately recognized that he is padding his shoes with insoles. However, when you study those insoles, you realize that they are not the normal type you wear to help with your orthotic medical conditions. These are basketball specific insoles, which absolutely NO sense.
Let's summarize the information we do know about this kid Aaron Gordon.
He is listed at the height of 6′ 9″ on his current NBA basketball team. However, the website DraftExpress would reveal that his real height is 6′ 7.5″ when measured in the 2014 NBA Draft Combine. He wore shoes that gave him 1.25″ more inches, making him 6′ 8.75″, which is rounded up to 6′ 9″. Interestingly he was measured just 6′ 6″ just back in 2013. His maximum vertical at the combine was 39″, which is very respectable.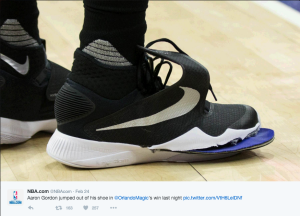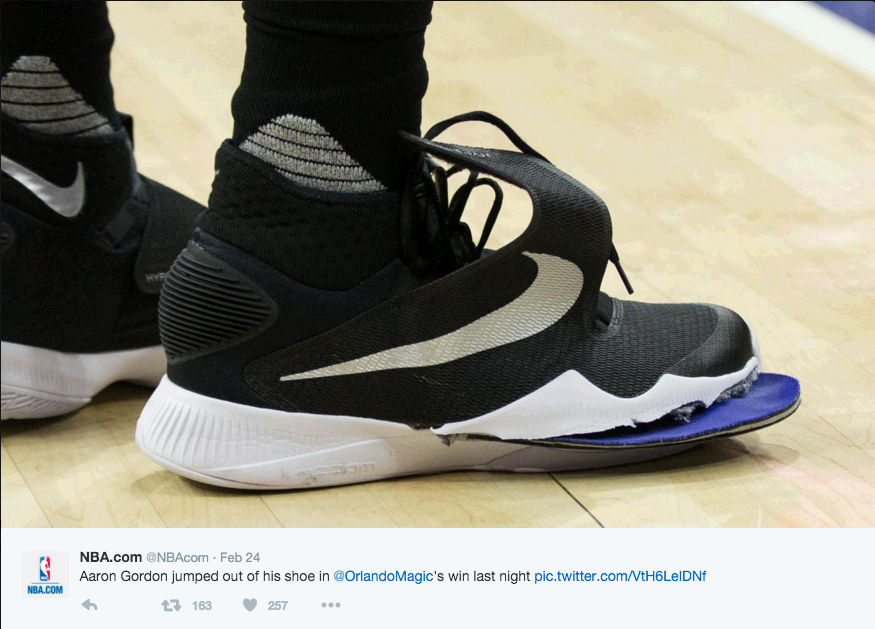 Let's talk about the exact shoes he was wearing. They are known as the Hyperrevs, specifically a black-and-white Nike Zoom Hyperrev 2016 model. When you look for this specific model and what it looks like inside, you realize that it already has a Nike logo styled on the bottom of its designed insoles that is supposed to fit in there.
Let me show you guys a picture of what it looks like inside a Nike Lunar Hyperrev. This is what is supposed to look like below. Notice also how the broken Hyperrevs show that the insole inside is multilayered, and really thick. And that is just the front part. The way most insoles are designed, the front part is the most thin, and as you go back further, the insoles close to the heel become thicker, often over 0.5 an inch.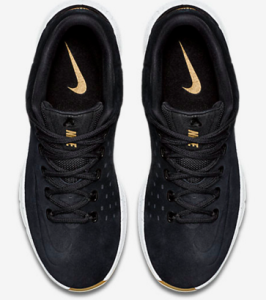 Here is the honest truth about these basketball insoles. You don't need them. Nike is a multi-billion dollar company who has had over 30 years since riding the coat tails of Michael Jordan been designing and looking for better and better ways to make shoes that appeal to the basketball community. How is it not possible that Nike hasn't already realized that the insoles of a basketball shoe is important and looked to make the absolutely most comfortable pair of insoles already embedded into the shoes, which accounted for shock absorption?
These Jordans are often over $500 each pair. There is absolutely no doubt that the insoles in the shoes from the factory in China are already the best there is. You can't design anything else to be better. The issue of shock absorption, which is marketed in the insole community is already mitigated by the factory built Nike shoes.
Aaron Gordon don't need those insoles and he knows it. In fact, based on my experience playing basketball, the more weight a shoe has, the less you can jump. This kid is putting extra insole into his shoes for reasons that are not based on basketball. It would be a better advantage for him to not wear those insoles, for less weight, better maneuverability, less chance of a ankle break, and higher verticals.
I am calling this kid out for being busted. It is similar to how the founder of LiftKits Derek White told his story of how he learned about one of the dirty secrets of the modeling world when he saw a fellow model stuff his shoes with insoles to make himself look taller. (Youtube video source here)
I would like to mention that there is even more dirty little tricks in the basketball community to the frequent readers.
Have you guys ever heard of height increasing socks?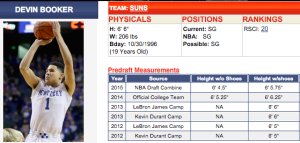 I have, and I have seen these height increasing socks in action. They were revealed in one specific combine measurements. Let me tell you guys who I am talking about. I am referring to the rookie Devin Booker. From 2014 to 2015, his measured height without shoes went from 6′ 5.25″ to 6′ 4.5″.
When you look at this kid next to the 6′ 3.5″ tall NBA Commissioner Adam Silver with a google search, you realize that this kid is not the 6′ 6″ that is listed on his NBA profile.
So how is it possible that a person's height can change a full 0.75″ of an inch from one year to the next, downwards??? – Some people would obvious state the principle of diurnal variation where one's height can change through the day. However, the NBA draft has already realized this specific phenomena, and taken that factor into consideration. All measurements in terms of height, reach, vertical, and hand size are measured early in the morning right out of bed. If you guys don't believe me, there is a youtube video of Blake Griffin getting measured out and you can clearly see when they measure out his height to be between 6′ 8.5″-6′ 8.75″. It is done right after a night's sleep. Diurnal variation was accounted for.
Height is never supposed to decrease, especially in your early 20s and the start of your basketball career. When you as a potential NBA player is getting that last final height measurement done to see whether those team scouts and general managers think highly of you, I don't think any player is ever willing to make themselves shorter than they really are. Who would ever bend their knees when on the stadiometer?
Even a 1 inch drop in height from what was perceived before means losing millions of potential earning dollars in one's basketball career. Quite a few scouts and analysts noticed this strange drop in height without shoes and couldn't understand it.
There has been a similar case which I have heard of reported maybe 3-4 years back about a South Korean male when being drafted into the military service whose measured height dropped from 1.86 meters tall to 1.81 meters tall from one year to the next. It is not because of a supernatural phenomena.
Well, it is those socks. You have these crazy socks which are probably made in Japan or South Korea which gives you the impression of being taller than you really are, even after taking off your shoes. It is well known that in many Asian cultures, you have to be constantly taking off your shoes for many normal everyday events. You can't wear lifts in the shoes, since it is too obvious. The next most obvious thing is to wear height increasing socks.
Yes, they are available on Amazon but you would be better to be looking on AliExpress and/or Alibaba for a pair to try out if you want to really hide what you are doing.