Here is the last finger clamping results.  In that I was clamping the distal point of the right pinky finger and now I am clamping the medial region.  I have abondoned the pulling motion as it seemed to be more the hand clamping that was generating my results.  Now I'm still doing LSJL using the Irwin Quick Grip clamp and one of the areas I clamp includes my left index finger with the Irwin Quick Grip.  I have not seen the changes with the quick grip clamping that I have with hand clamping.
A number of people doing LSJL reported that they felt it was more effective to use your hands to manually generate pressure.  This may indicate that there may be a deficiency in the Irwin Quick Grip and that an alternative clamping method may be needed.  That will be something that I am exploring.
Right now I'm going to clamp the base of the proximal end of the finger like so: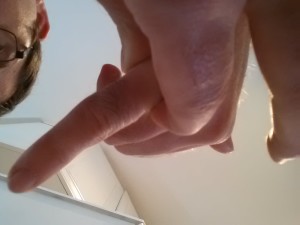 Then I'll see if I can pull out a little more growth.  There does seem to be some kind of conditioning effect where the body becomes more resistant to clamping.
Below is the progress pic.  I try to align based on the bottom based on the middle part of the finger because it's extremely difficult to align based on where the proximal finger begins.  Now this image isn't going to prove anything.  I'm going to need x-rays or a lot more significant growth.  I'll see how the finger base clamping goes.